Features.
7 in 1 multifunctional activity cube: 1 year gift musical toy with shape sorter, spinning pinwheels, tambourine with sound, piano keyboard, musical xylophone and melody pattern. Cute and colorful toys for toddlers will capture your baby's attention and stimulate his imagination.
Early learning toys for babies: toddler toys are available in a variety of play modes, including cognitive games that teach your baby to recognize different geometric shapes. A wide variety of games will stimulate your baby's creativity and improve hand-eye coordination, manual dexterity, color recognition and motor skills.
Musical toy with sound and light: musical educational toy with tambourine. The tambourine makes funny sounds and flashing lights when hit. It also has a piano keyboard, so your baby can play like a little musician while playing music.
Safe and friendly: this moving cube is made of high quality ABS plastic material and is environmentally friendly, safe and non-toxic. We strictly adhere to all relevant CE standards and it is a safe toy for children aged 6-12 months or older. Smooth design and strong shock resistance to protect baby's hands. Musical needs
Best musical gift for learning: no doubt it will be perfect for your child's Christmas birthday gift, surprise and amuse your child. Suitable for any occasion.
With bright colors, letters, numbers, shape sorting, drums, music and more. Toddlers can improve their critical thinking and problem solving skills, promote their sensory stimulation and brain development. Your baby will never be bored with this activity cube! Gift toy for 6-18 months, 1-3 years for girls and boys.
Piano keyboard
The colorful piano keyboard combines sound and color to develop language comprehension and learning skills. Your child can become a young musician by playing with music.
High quality
Made of high-quality plastic, the toy has a smooth surface and is safe for children. The smooth design is strongly shock-resistant and protects your child's hands.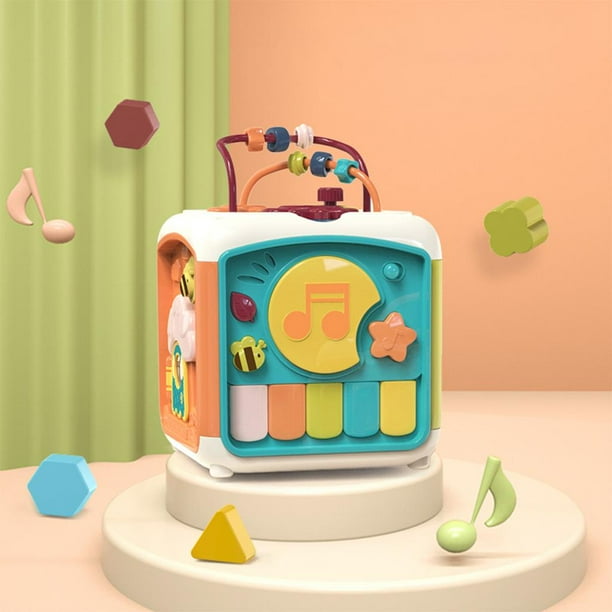 Portable design
Thanks to its portable design, this activity center toy is easy to carry, so your child can take it with them on road trips, camping trips or vacations.
Happy moments for parents and children
Children need companionship and encouragement as they grow. Joining in the games and cheering them on will stimulate the child's imagination and allow for happy parent-child time.
Specifications.
Material: ABS
Size: 15*15*21cm