Cechy.
Zabawka edukacyjno-wychowawcza: przedszkolna zabawka edukacyjna dla 4-7 latków, dzieci znajdą w niej wiele sposobów na zabawę. Liczenie misiów w kubeczkach to wesoła gra dla dzieci. Liczniki niedźwiedzi są również idealne jako zabawki sensoryczne dla 4-7 latków lub jako zabawki Montessori, te prezenty do terapii zajęciowej poprawią rozwój koordynacji ręka-oko i drobnych umiejętności motorycznych u przedszkolaków w wieku 3, 4, 5 i do 6 lat do nauki dodawania, liczenia, sortowania i układania. Stymuluje umysł dziecka.
Rozwija umiejętności poznawcze: sortując różnokolorowe misie, Twoje dziecko poprawi swoje umiejętności motoryczne i rozpoznawanie kolorów. Każda karta jest dopasowana do tekstu opowiadania lub problemu matematycznego, a karty te są najlepszym materiałem do nauki dla dzieci z autyzmem, takich jak "poznanie ilościowe", "poznanie dodatkowe" i "budowanie modelu". . Umiejętności zapamiętywania są znacznie wzmocnione, gdy wykorzystuje się wyobraźnię dziecka, umiejętność krytycznego myślenia, umiejętność logicznego myślenia i aktywność malucha.
Zabawki do rozpoznawania kształtów i kolorów: karty aktywności budowania modeli i kołki z nożyczkami przeznaczone są dla dzieci od 3 roku życia, maluchów, przedszkolaków i dzieci ze szkoły podstawowej, dzięki czemu jedna zabawka może służyć przez wiele lat. Pojemnik do przechowywania zabawek może pomieścić wszystkie kubeczki lub misie i kolorowe kostki. Choć licznik kolorów jest odpowiednią zabawką dla 3-letnich dziewczynek, nie nadaje się dla tych, które wciąż wkładają rzeczy do buzi. Jeśli dziecko ma 3 lata lub mniej, wymagany jest nadzór
Bezpieczeństwo malucha jest naszym priorytetem: ten edukacyjny zestaw zabawek do liczenia został przetestowany przez ASTM i jest wykonany z materiałów przyjaznych dla środowiska. Zabawka sensoryczna dla 4-7 latków i możliwość eksploracji z najbliższymi. Promujemy różnorodne i żywe kariery dla dzieci i wspieramy wszystkich, którzy opiekują się, wychowują i pracują. Zabawka dla dzieci jest testowana przez niezależne laboratorium trzeciej strony. Posiada certyfikat nietoksyczności i jest wolny od Bisfenolu A, ołowiu i ftalanów.
Specyfikacje.
Materiał: ABS
Rozmiar: 28*18.5*12.5cm
Produkt zawiera: 3g 60szt, 6g 30szt, 9g 12szt (6 kolorów), 1 klips, 3 kostki, 15 kart, 1 torebka do przechowywania, 1 pudełko do przechowywania, 6 kolorowych tęczowych kubków (z uchwytem na kubek)
Zabawna i edukacyjna gra w łodygi
Nasze Liczące Misie są doskonale zintegrowane z programami STEM i Montessori. Jest to zarówno zabawa jak i edukacja dla małych dzieci.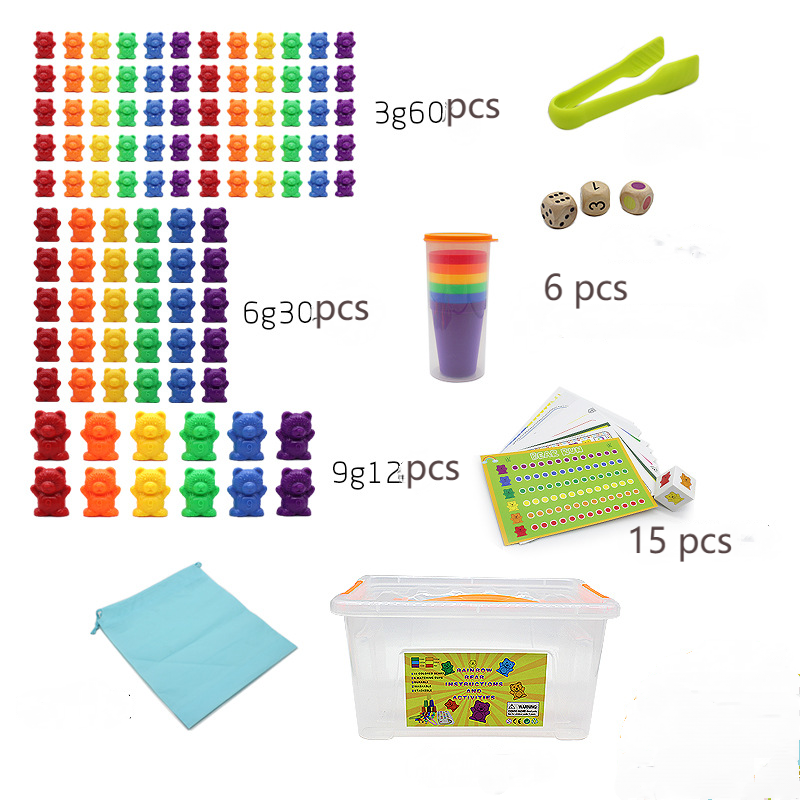 102 Tęczowe kubeczki Bear Zestaw: 3g 60szt, 6g 30szt, 9g 12szt (6 kolorów), 1 klips, 3 kostki do gry, 15 kart, 1 woreczek do przechowywania, 1 pudełko do przechowywania, 6 tęczowych kubeczków (z uchwytem na kubeczki).

Zabawki edukacyjne to podstawowe gry, w których dziecko może z łatwością zdobywać umiejętności. Na przykład rozpoznawanie kolorów, umiejętności matematyczne, umiejętność sortowania i koordynacja ręka-oko.

Te urocze misie do liczenia zainteresują Twoje dziecko i zainspirują je do sprytnych i pomysłowych zabaw. Godziny rozrywki i zabawy edukacyjnej dla Twojego dziecka.
Umiejętności motoryczne duża pęseta pomaga wzmocnić małe dłonie i przygotować je do przyszłych umiejętności, takich jak pisanie. Idealny dla uczniów ze specjalnymi potrzebami (ADHD, autyzm) lub jako narzędzie do każdej klasy przedszkolnej.

Idealny prezent dla Twojego dziecka. Ten zestaw zabawek do liczenia/sortowania Rainbow Bear wykonany jest z wysokiej jakości tworzywa sztucznego, jest bezpieczny dla dzieci i łatwy do czyszczenia.