Ta trójkątna wspinaczka to niesamowita zabawka treningowa dla niemowląt i małych dzieci w kształcie trójkąta. Została zaprojektowana tak, aby rozwijać mięśnie i siłę, motorykę i koordynację, ale także odwagę Twoich małych skarbów! Jest ewolucyjna, co oznacza, że w miarę jak Twoje dziecko będzie coraz starsze i silniejsze, może na niej przeżywać więcej przygód. Co więcej, odciągnie Twoje dzieci od ekranów tak bardzo, jak to tylko możliwe! Jest równie piękny jak wytrzymały i łatwo się składa do przechowywania.

Trójkątna drabina i deska do balansowania: Możesz przechylić deskę do wspinaczki i równowagi w zależności od potrzeb. Nie tylko wzmacnia umiejętności motoryczne dziecka i kontrolę równowagi, ale także poprawia odwagę.
Gładkie, łatwe do uchwycenia szczeble - Używamy litego naturalnego drewna bukowego, aby zapewnić dzieciom bezpieczny chwyt rąk i stóp na wielu punktach kontaktowych podczas zabawy.
Trwałość - Do produkcji tych desek użyto wysokiej jakości drewna, aby zapewnić trwałość, każda deska jest starannie ręcznie wykonana, aby zapewnić bezpieczne użytkowanie.
Składana z mechanizmem blokującym dla łatwego przechowywania i mobilności.
Wielofunkcyjna - może być używany jako huśtawka, stołek, łóżko dla lalek, tunel, itp. wszystko inne, co można sobie wyobrazić.
Deska do balansowania wytrzymać do 100 kg
Trójkątna rama wspinaczkowa wytrzymać do 80 kg
Stabilna trójkątna konstrukcja: Trójkątna struktura, ta drabina zapewnia solidne podstawy zapobiegające upadkowi w największym stopniu, jest wystarczająco mocna i ma wysoką nośność.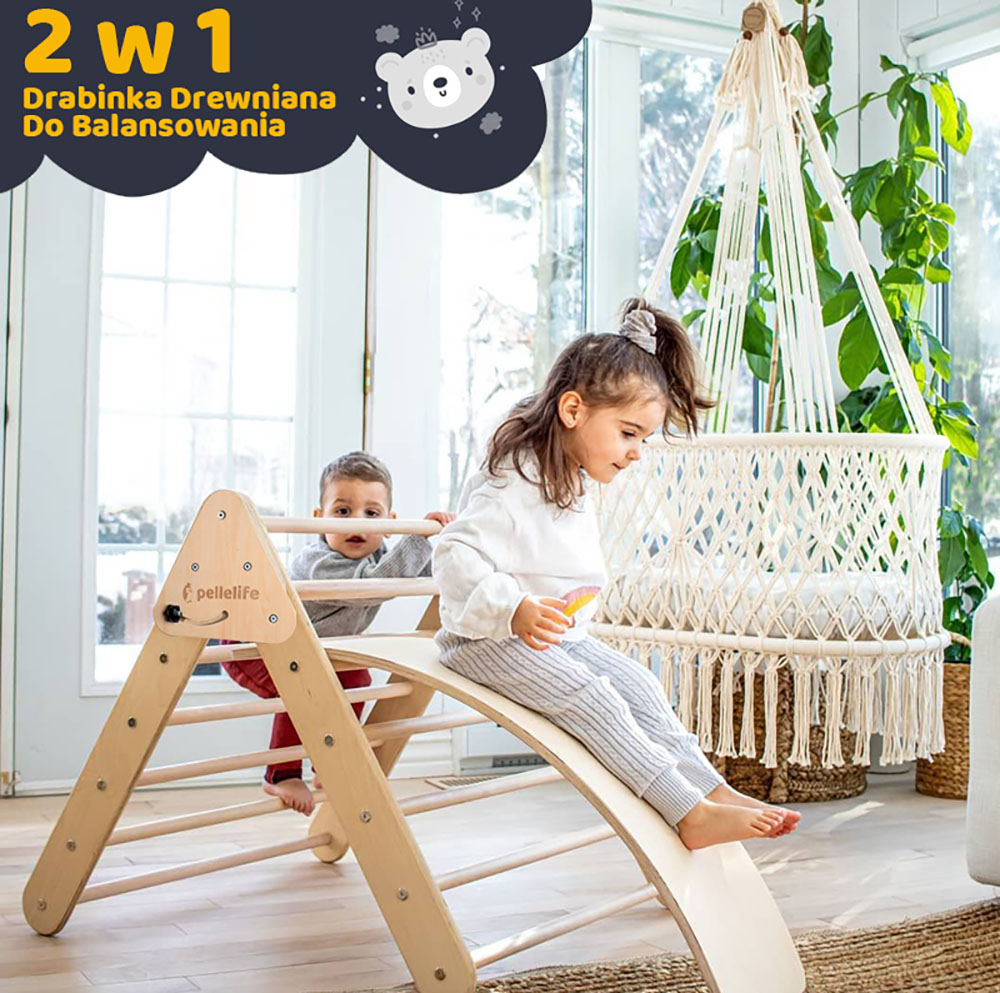 Mocne materiały i przyjazna dla środowiska farba: Nasza wspinaczkowa drabina trójkątna wykonana jest z wysokiej jakości naturalnego drewna, które jest bardzo mocne i trwałe. Powierzchnia jest natryskiwana farbą przyjazną dla środowiska bez BPA, która jest nietoksyczna i bez smaku, i chroni zdrowie dzieci.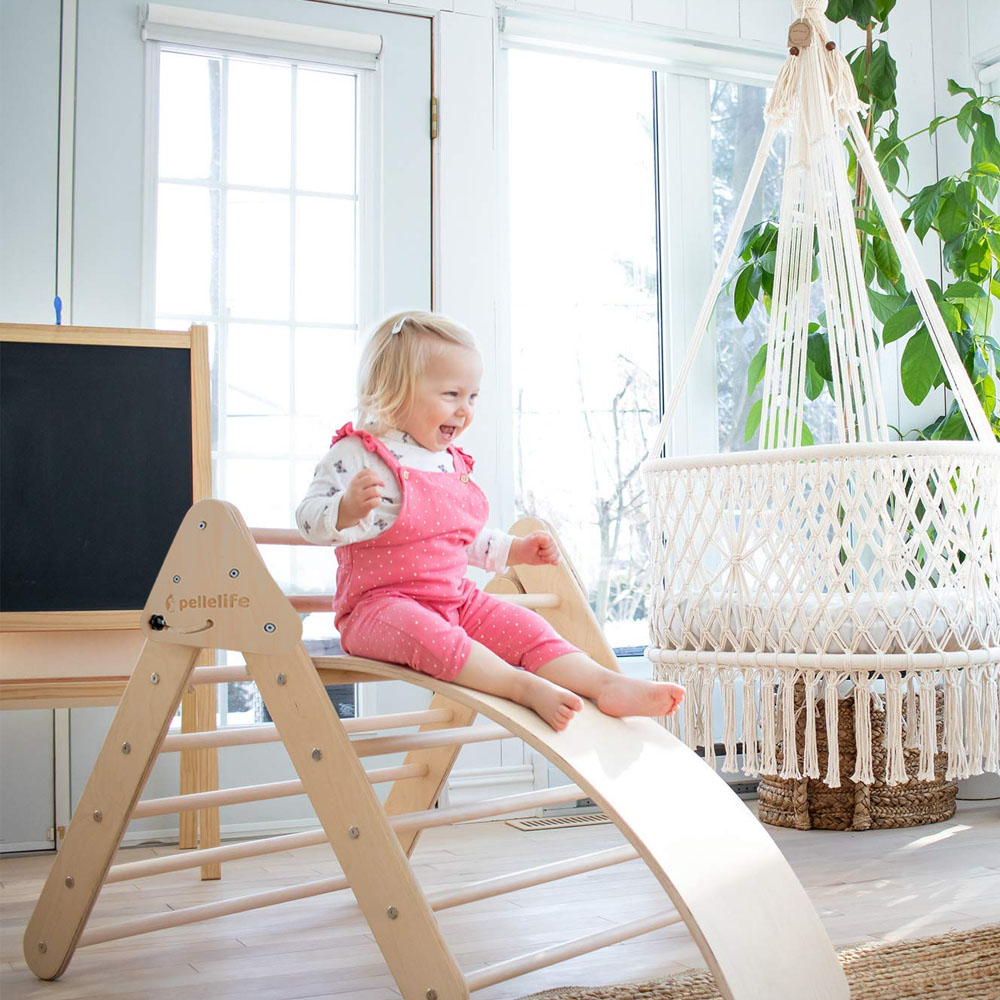 Składana konstrukcja i łatwa do czyszczenia: Ten trójkąt wspinaczkowy ze składaną konstrukcją można łatwo zmniejszyć, aby ułatwić przechowywanie i przemieszczanie, nie zajmując zbyt wiele miejsca.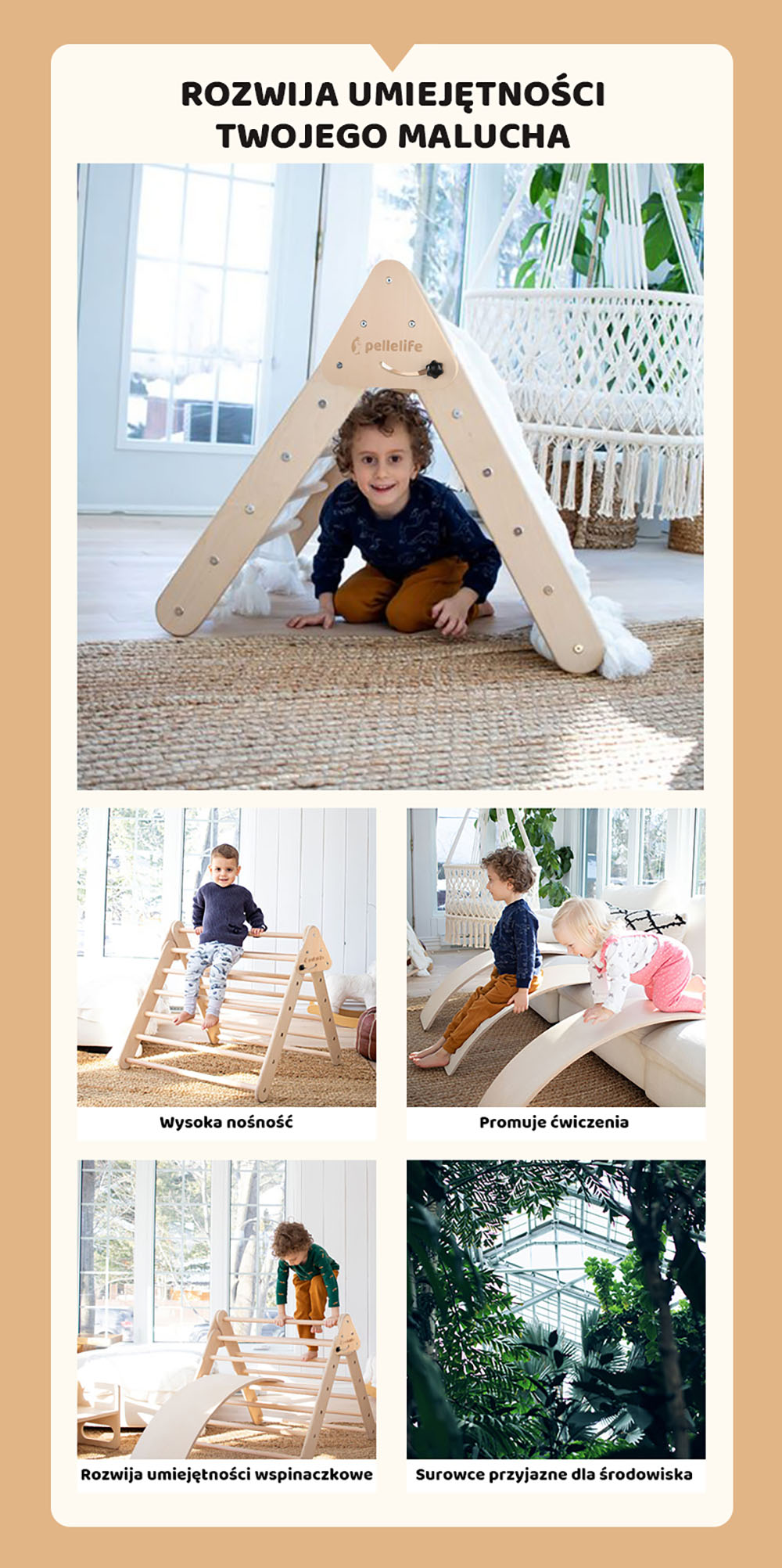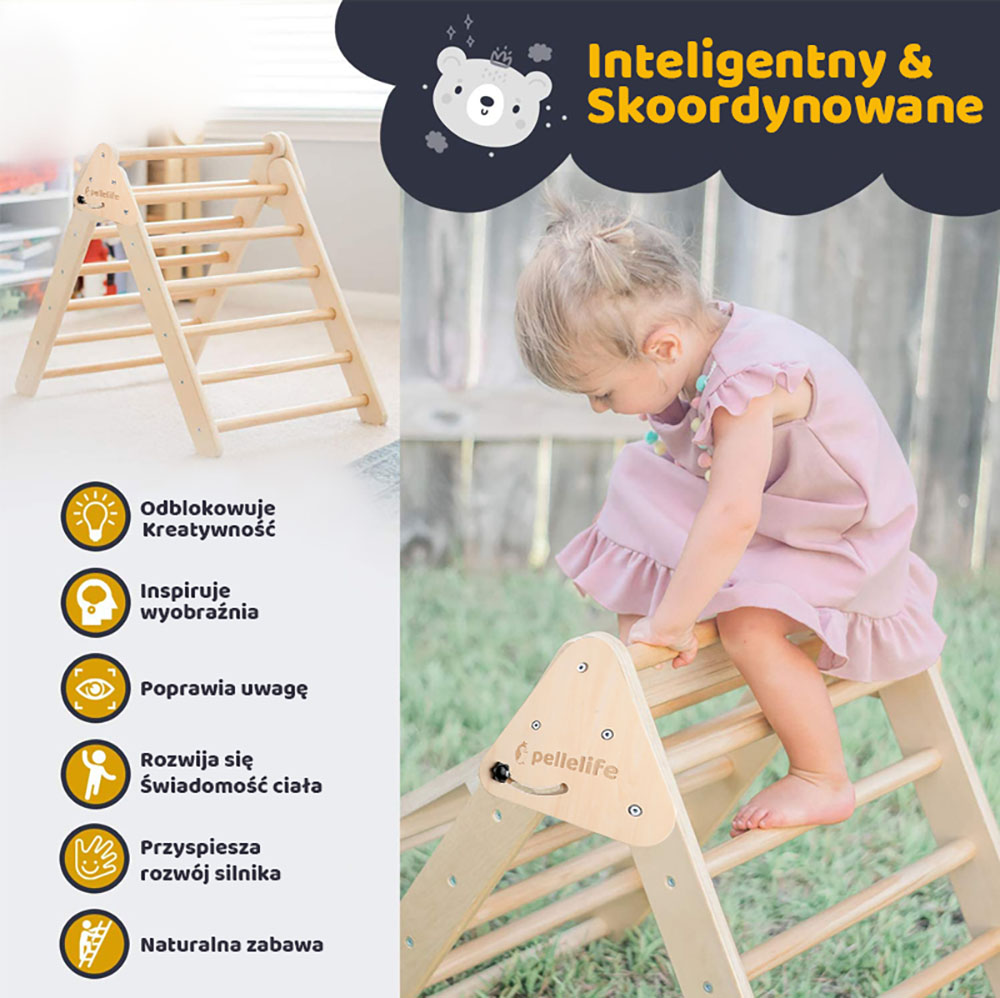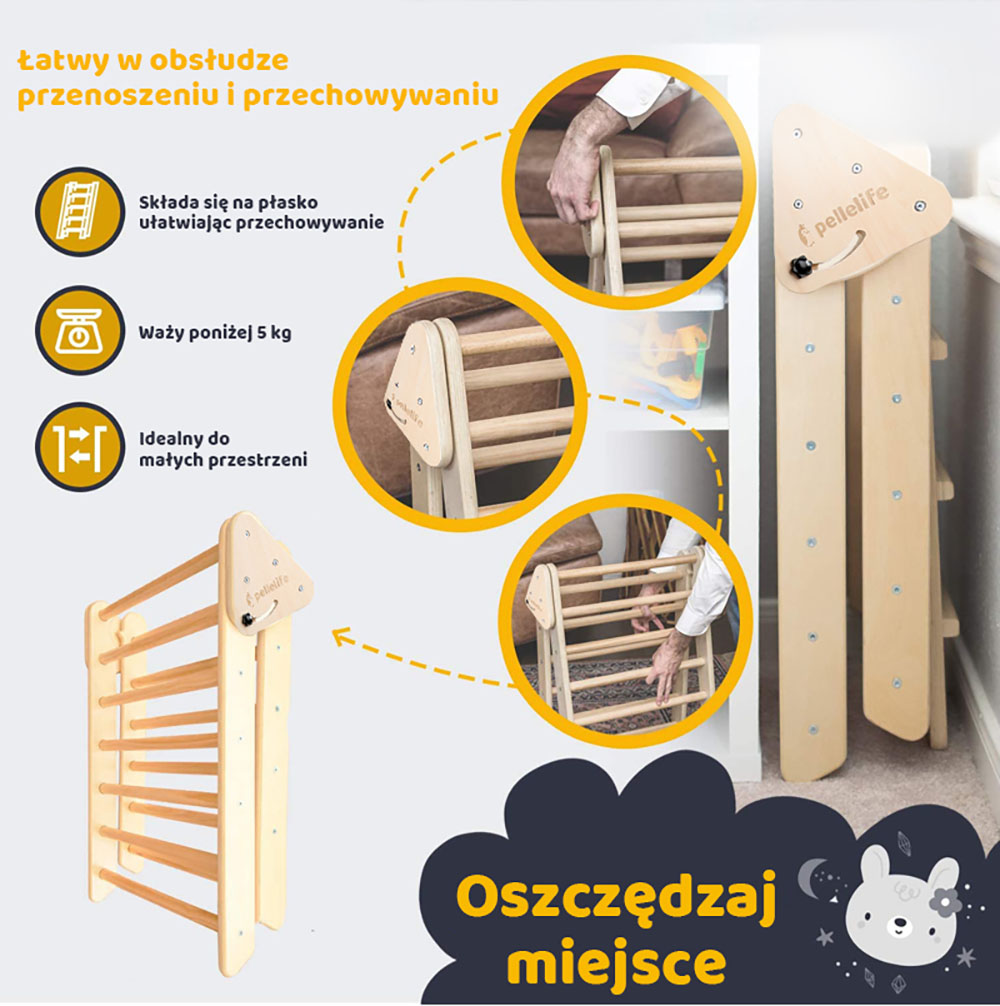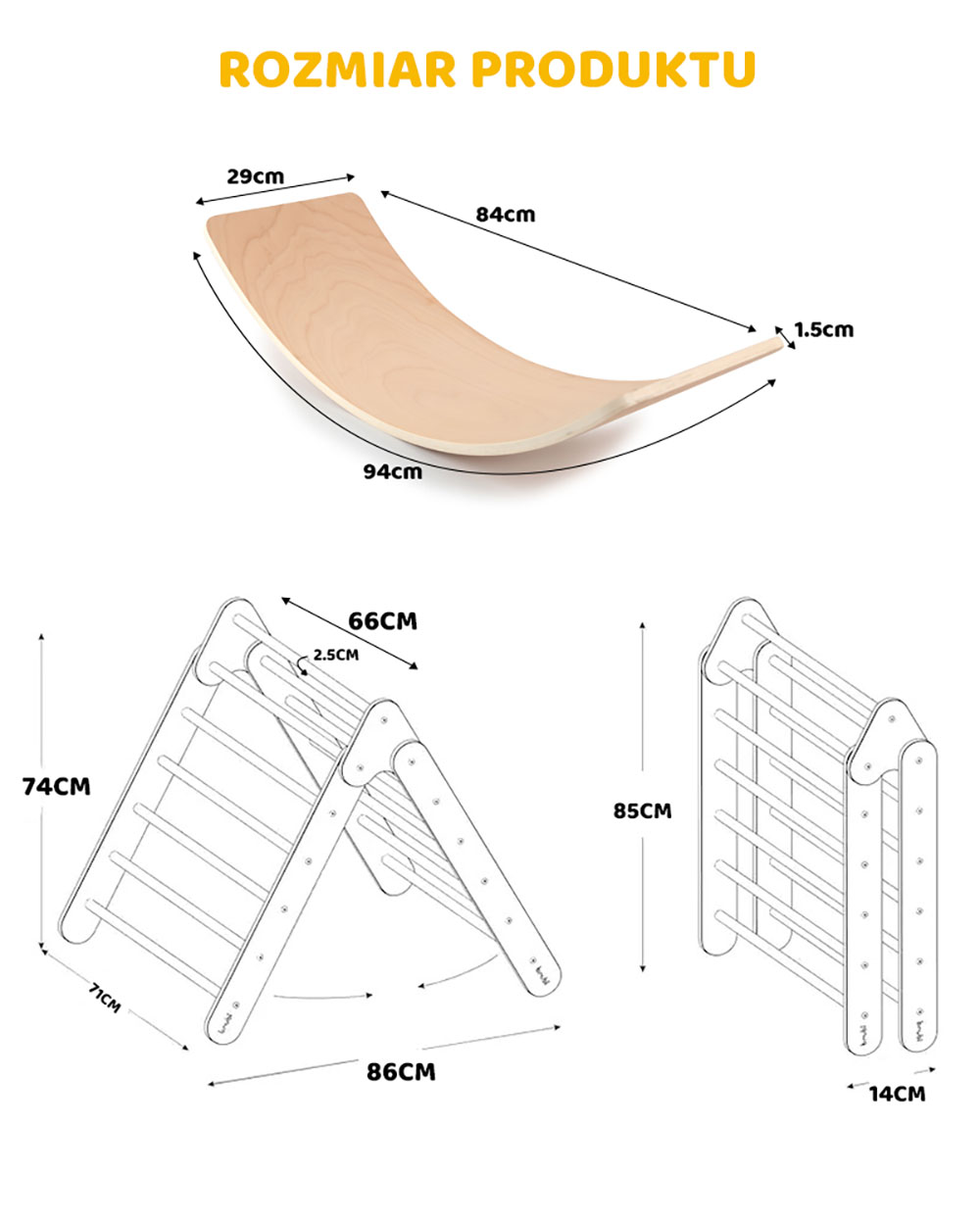 Szczegóły produktu
SKU: JF3-KQ01
Materiał: Drewniany
Rozmiar ramy do wspinaczki: 70*86*73 cm
Drewniany kij: 66 cm
Średnica drewnianego pręta: 2,5 cm
Rozmiar tablicy balansowej: 84*29,5*1,5 cm/94*29,5*1,5 cm
Waga: 8 kg

Zawartość zestawu
1 x Deska do balansowania
1 x Trójkątna rama wspinaczkowa