Wygodny schowek na zwierzęta, idealny organizer na pluszowe zwierzęta, dzięki któremu łatwo przechowasz i zorganizujesz swoje ulubione zabawki w naszym ponaddrzwiowym schowku. Łatwy w montażu i trwały, dzięki czemu dzieci mają łatwy dostęp do swoich zabawek. Wyposażony w oddychającą kieszeń z siatki, aby utrzymać swoje wypchane zwierzęta świeże i czyste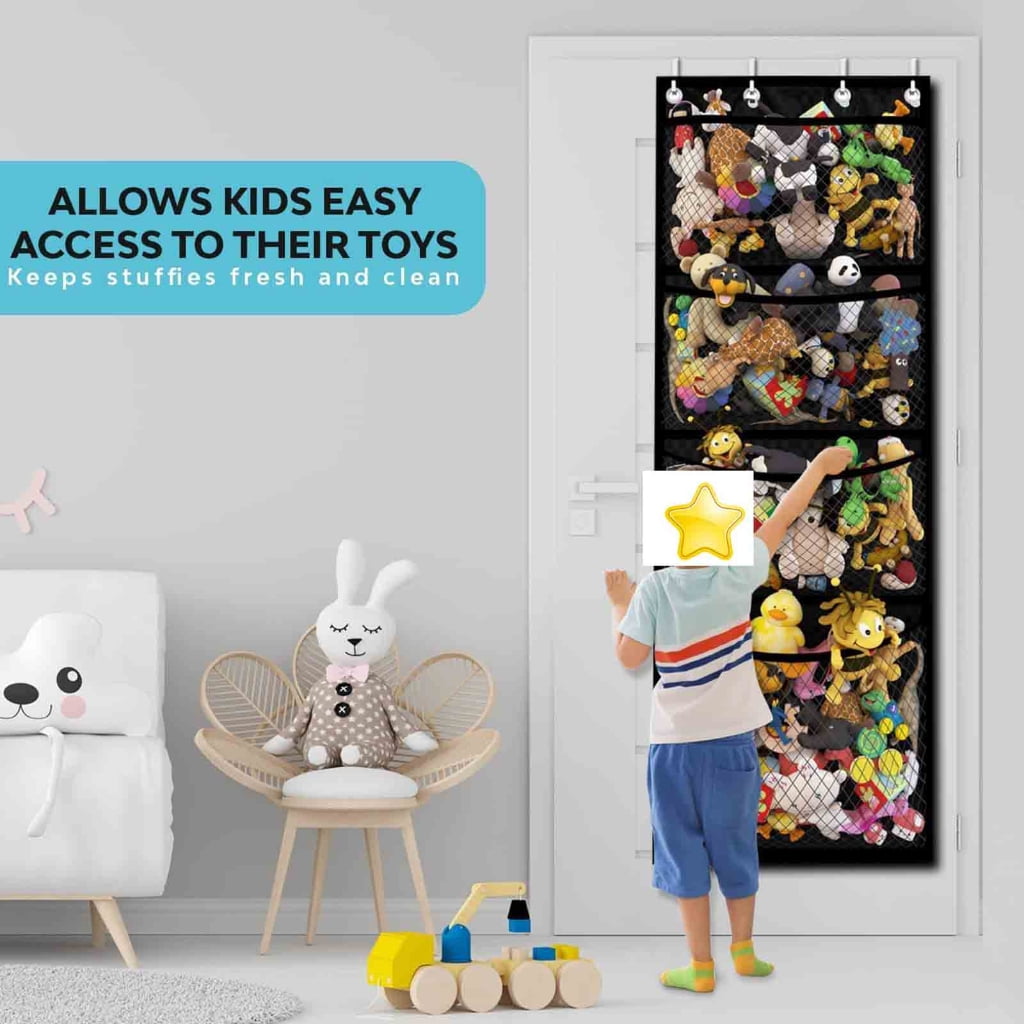 Gwarantowana satysfakcja kupującego
Podczas gdy typowe pomysły wyświetlania wypchanych zwierząt mogą zająć cenną półkę i miejsce na podłodze i utrzymywać wypchane zwierzęta poza zasięgiem wzroku i umysłu, ta unikalna alternatywa przechowywania drzwi może przechowywać torby z fasolą, hamaki z zabawkami lub wiele wypchanych koszy ze zwierzętami.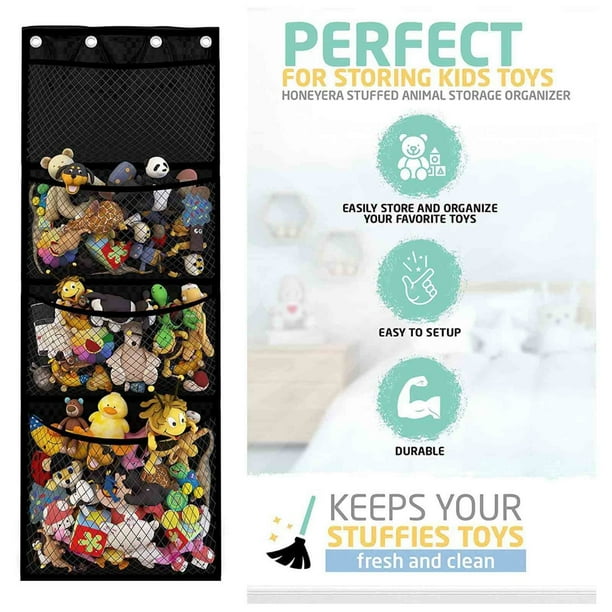 Przechowywanie na drzwiach jest idealne dla wypchanych zwierząt, rzeczy dla dzieci, takich jak pieluchy lub do przechowywania innych miękkich przedmiotów. W przeciwieństwie do wypchanej torby fasolowej do przechowywania zwierząt, może być używany jako ponaddrzwiowy magazyn w łazience sypialni, jako organizator tablicy w pralni lub aby utrzymać wszystko zorganizowane w przyczepie kempingowej lub campervan.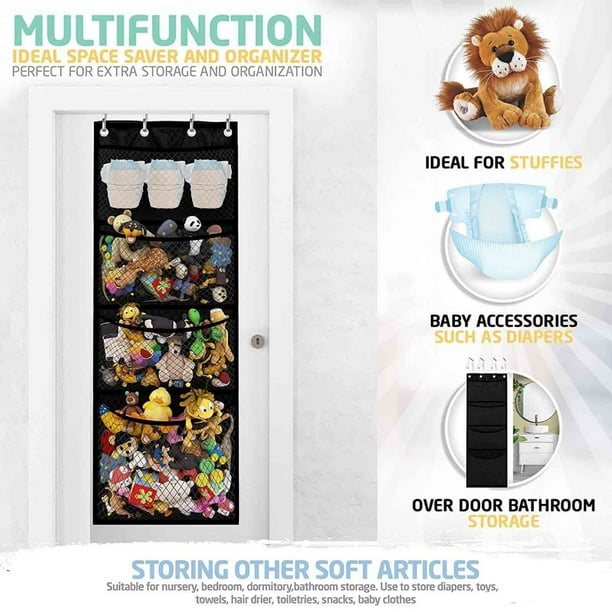 Schludny i zorganizowany
It can be hard for parents and children to keep all those stuffed animals, toys and children's accessories in one tidy place, so this over-the-door storage is the perfect gift for baby welcome parties, Christmas presents or open day gifts. Będą o Tobie myśleć za każdym razem, gdy będą korzystać z tego praktycznego i kreatywnego rozwiązania do przechowywania w pionie.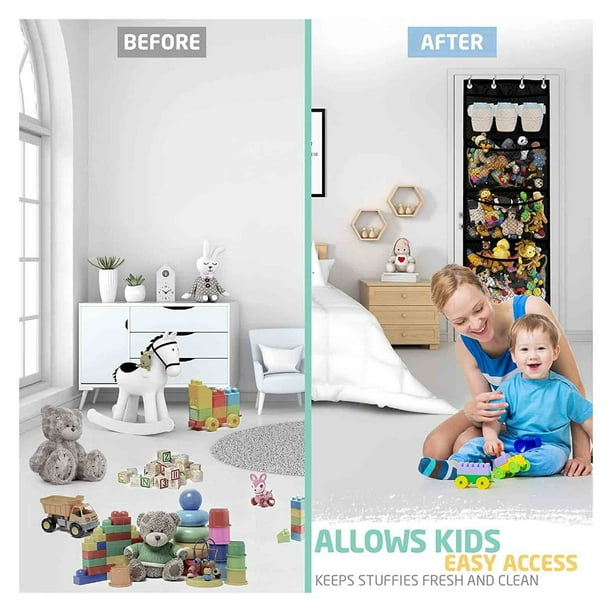 Unikalny wiszący schowek na zabawki
W komplecie z czterema solidnymi metalowymi haczykami i składaną torbą o wymiarach 65*60cm z czterema przegródkami z siatki, ten wiszący schowek na zabawki pluszowych zwierząt ma mnóstwo miejsca do przechowywania zabawek. Uzupełnia każdy wystrój pomieszczenia i nie zajmuje miejsca na podłodze ani na ścianie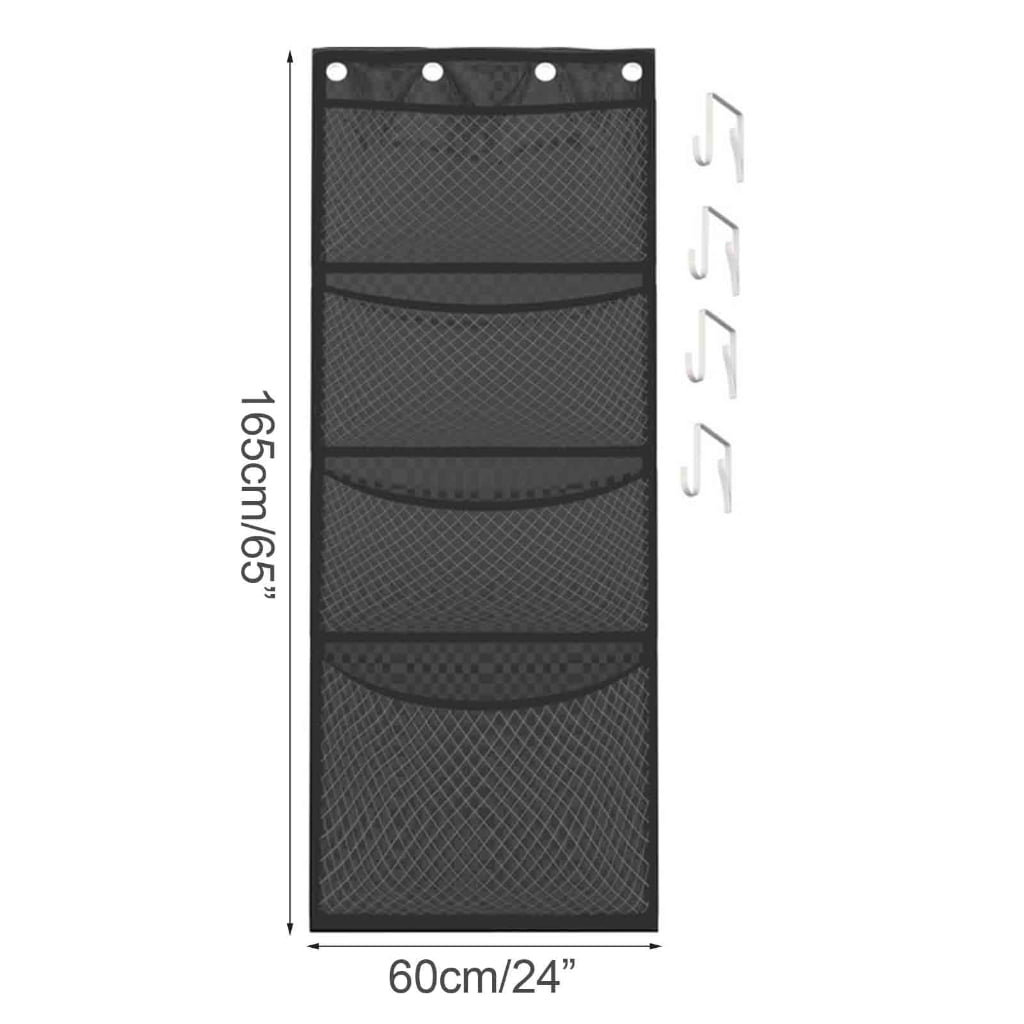 Specyfikacja.
Materiał: Tkanina
Funkcja: Przechowywanie
Rozmiar produktu: 165*60cm
Waga: 300g
Rozmiar opakowania: 33*24*4cm
Produkt zawiera:
torbę do zawieszania*1, metalowy haczyk*4