Cechy.
Zabawki Montessori dla 2, 3 i 4 latków: wysokiej jakości drewniane zabawki zawierają 12 kawałków owoców, 8 marchewek, 10 uroczych robaczków i pięcioboczny wózek o różnych kształtach i strukturach. Ponadto drewniane zabawki wykonane są z dużymi cząstkami, polerowanymi krawędziami i nietoksycznymi farbami na bazie wody, zaspokajając zarówno potrzebę niemowląt do nauki przez zabawę, jak i pragnienie rodziców dotyczące bezpieczeństwa i jakości.
Zabawka edukacyjna dla dzieci: Ta urocza drewniana zabawka na farmie bawi się w wyrywanie rzodkiewki, identyfikację owoców, dopasowywanie kształtów, wózek, identyfikację kolorów, łapanie króliczków, przechowywanie i sortowanie i jest świetną zabawką dla dziewczynek i dzieci w wieku od 2 do 4 lat*. Różnorodność sposobów zabawy sprawi, że dziecko będzie szczęśliwsze.
Drobne umiejętności motoryczne: Drewniane zabawki Montessori to zabawki edukacyjne dla dzieci w wieku 3-5 lat. Gra w sortowanie kształtów poprawia drobne umiejętności motoryczne dla 2-4 latków, robaczki króliczki ćwiczą koordynację ręka-oko, a kolorowe klocki z wzorami owoców poprawiają rozpoznawanie kolorów, kształtów i kolorowych owoców.
Happy Carrot Harvest Time: Zaproś przyjaciół swojego dziecka do gry w marchewkę z tobą, to naprawdę zabawne, a twoje dziecko spędzi godziny grając, poprawiając przyjaźń między dziećmi i relacje rodzic-dziecko. Świetna przedszkolna zabawka edukacyjna dla dziewczynek i chłopców w wieku 2, 3 i 4 lat.
Kreatywne i urocze prezenty: kolorowe wzorzyste zabawki Montessori są idealne dla 2, 3 i 4-letnich niemowląt, na urodziny, karnawał, Boże Narodzenie i Nowy Rok. Chodź, pobawimy się marchewkami.
Specyfikacje.
Materiał: drewno
Rozmiar: 21.5*16.2*9cm
Waga: 0.9 kg
Edukacyjne zabawki drewniane dla dzieci Montessori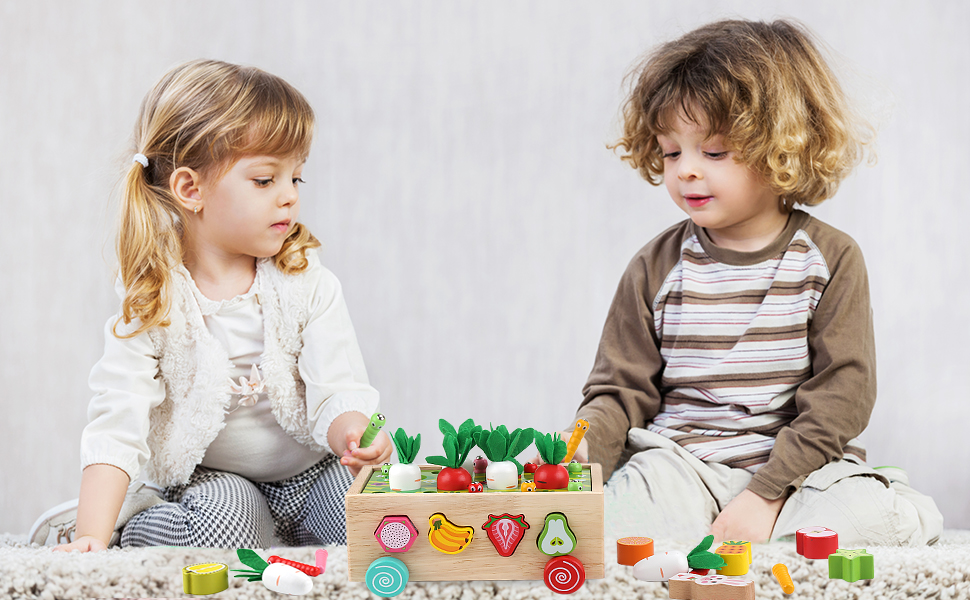 Zabawa dla rodziców i dzieci
Drewniane zabawki Montessori są urocze i stanowią świetny sposób dla dziewczynek i chłopców w wieku 2-4 lat na rozwijanie drobnych umiejętności motorycznych. Wykorzystaj kolorowe robaczki i owoce, aby nauczyć dziecko kolorów, liczenia, łapania robaczków i dopasowywania kształtów. Jeśli dziecko nie chce się bawić, można przechowywać robaczki, owoce, króliczki i rzodkiewki w inteligentnym samochodzie, aż dziecko znów się pobawi.
Drewniana podstawa, 1 klocek z owocami, 12 marchewek, 8 magnetycznych króliczków, 10 uroczych robaczków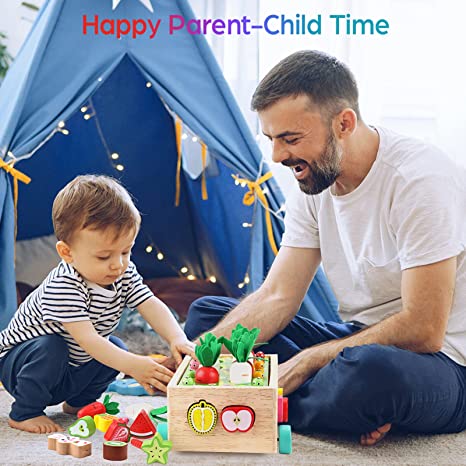 Duża pojemność magazynowa
Odpowiednie dla chłopców lub dziewczynek od 24 miesięcy, zabawki edukacyjne mogą być używane indywidualnie i łatwo przechowywane w pudełku, oferując wygodne opcje przechowywania oraz łatwy i bezpieczny sposób przenoszenia. Zabawka dla dzieci to świetny projekt do wykorzystania w domu lub w podróży.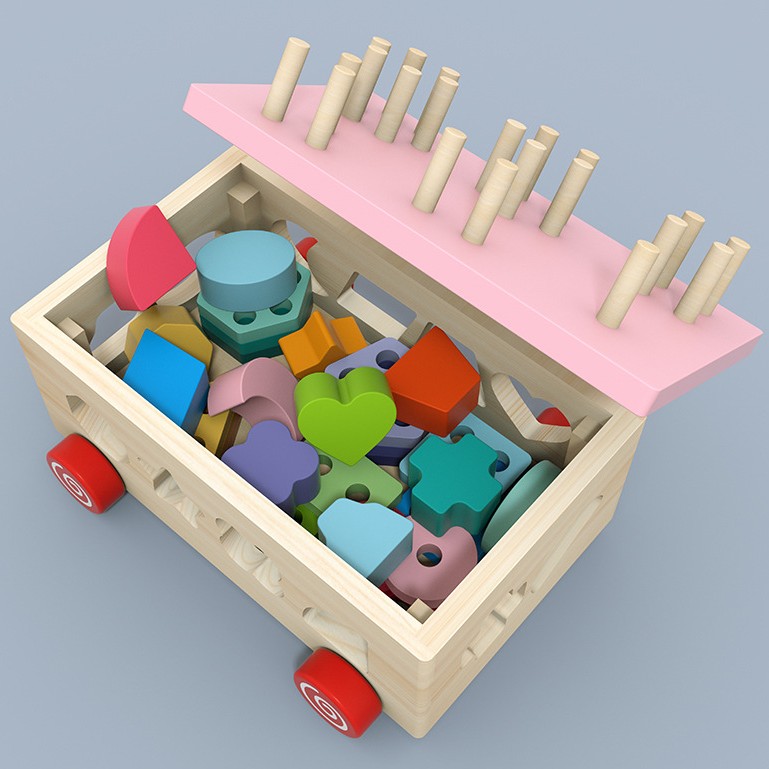 Nauka chodzenia
Inteligentny wózek Farm Orchard można popchnąć, a wózek wykorzysta siłę bezwładności, aby poruszać się do przodu, co przyciągnie uwagę dziecka i nauczy je ćwiczyć raczkowanie i chodzenie.
Rozpoznawanie kształtów i kolorów
Drewniana zabawka posiada 8 marchewek i 1 podstawę z 8 otworami pasującymi do marchewek. Twój maluch będzie musiał określić wielkość marchewek, aby włożyć je z powrotem do szczelin. Wydaje się to dość proste, ale może być dla nich wyzwaniem.
Gra "Marchewkowe żniwa
Zaproś rodziców lub przyjaciół dziecka do zbierania marchewek. Wytrzymałe marchewki są łatwe do uchwycenia i wzmacniają umiejętności drobnej motoryki. Pięknie zapakowane, nasze drewniane zabawki Montessori to idealny prezent na dni dziecka, święta, urodziny, Święto Dziękczynienia, Halloween, Boże Narodzenie, Nowy Rok, imprezy i inne okazje.
Królik łapiący robaki
Dziesięć robaczków i królik w czterech jaskrawych kolorach dla dzieci do nauki podczas zabawy. kolorowe robaczki na zabawkach dla dzieci w wieku 3+ mogą służyć do nauki kolorów, liczenia i łapania robaczków.
Identyfikacja owoców
Wszystkie detale zostały pomyślane z myślą o małych chłopcach. Zabawki dla dzieci 3+ mają gładkie polerowane wykończenie dla gładkiej i delikatnej powierzchni, aby lepiej chronić małe rączki Twojego dziecka. Te owoce pomogą Twojemu dziecku nauczyć się rozpoznawać i łączyć kształty owoców.