Cechy.
Wielofunkcyjny drewniany zestaw puzzli: małe dzieci mogą używać tej zabawki edukacyjnej Montessori do wielu działań edukacyjnych, w tym rozpoznawania liczb, liter, kolorów i kształtów, sortowania, liczenia klocków lub pierścieni, układania pierścieni lub klocków, uczenia się podstawowej matematyki i gier w łowienie liczb.
Materiały wysokiej jakości:Puzzle do sortowania kształtów wykonane są w 100% z naturalnego drewna i spełniają normy bezpieczeństwa zabawek, atesty CE, ASTM i CPSIA. Nietoksyczna farba, odporna na uderzenia, bez zadziorów i bezpieczna, bez ostrych krawędzi na każdym kawałku, bezpieczna układana zabawka do sortowania dla dzieci do zabawy.
Zabawki edukacyjne: Puzzle to zabawne przedszkolne zabawki edukacyjne narzędzia do nauki. Zabawki te rozwijają umiejętności rozpoznawania kolorów, koordynację ręka-oko oraz pobudzają kreatywność i wyobraźnię. Pomaga dzieciom rozwijać drobne umiejętności motoryczne, kreatywność, ciekawość i umiejętność odkrywania, poprawia pamięć poprzez wzory, a także promuje rozwój poznawczy, rozwiązywanie problemów, kreatywność i krytyczne myślenie.
Zabawki interaktywne: Możesz bawić się tymi zabawkami Montessori ze swoim dzieckiem, gdy identyfikują liczby, kształty, zwierzęta, litery, oświetlenie arytmetyczne, dopasowanie kolorów i rozwijają zainteresowanie nauką, aby zmaksymalizować ich naukę i pamięć.
Wspaniały prezent: wszystkie dzieci w wieku od 3 lat będą cieszyć się kolorowym światem, który mogą stworzyć dzięki temu zestawowi zabawek do układania. Zrób z niej prezent świąteczny, urodzinowy, wakacyjny dla dzieci. Puzzle dla maluchów są idealne do podnoszenia IQ i stymulowania mózgu, co sprawdza się również w przypadku dzieci z autyzmem.
Specyfikacje.
Materiał: drewno
Wykończenie: lakier wodny
Odpowiedni wiek: 36m+
Rozmiar.
Dinozaur 46.5*23,.5*4,5cm
Siedem w jednym 47.5*20*5,5cm
All-in-one 47*23.5*5.5cm
Waga: 700g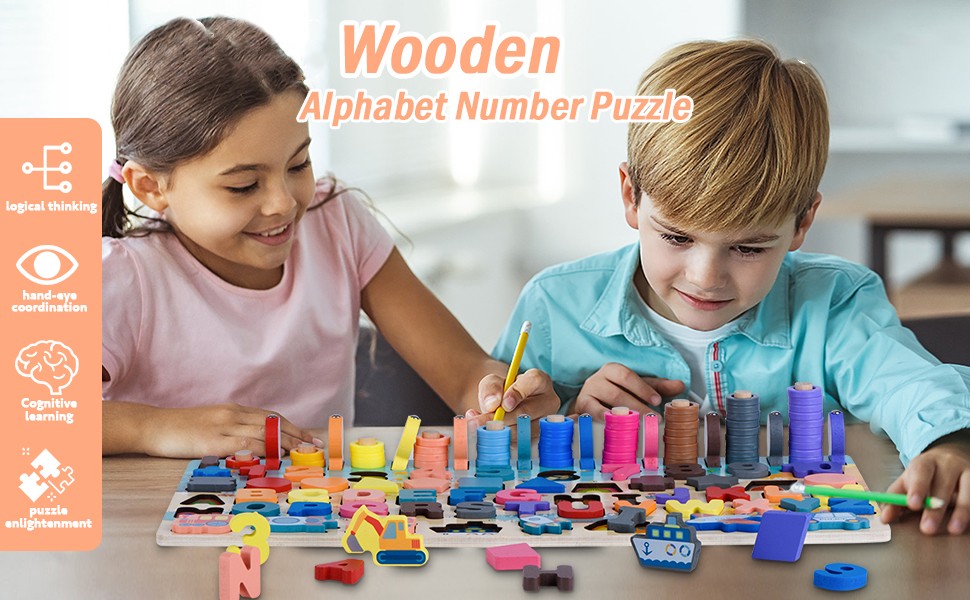 Wielofunkcyjna zabawka dla maluchów Montessori
Pozwól dziecku puścić wodze wyobraźni, gdy będzie rysować różne modele za pomocą klocków. Każdy drewniany klocek ma odpowiadającą mu pozycję, dzięki czemu dziecko może znaleźć odpowiednią pozycję i może rozwijać koordynację ręka - oko dziecka. Filozofia edukacyjna Montessori zakłada, że jeśli uczymy liczb, to liczby i odpowiadające im liczniki muszą być dokładnie w tym samym kolorze, aby można było skupić się na nauce rzeczywistych liczb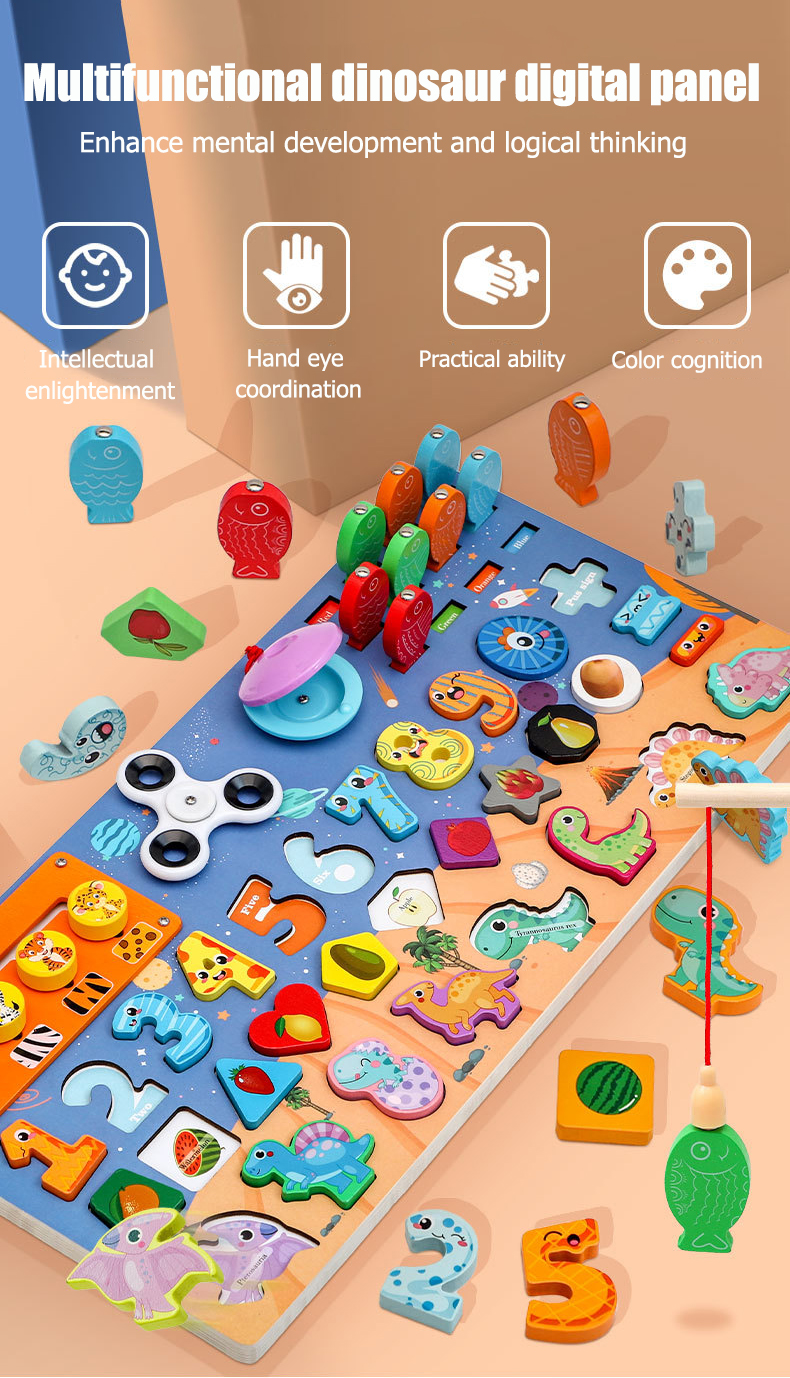 Bezpieczny i przyjazny dla środowiska
Z certyfikatem ASTM/EN71 dla produktów dziecięcych. Wykonana w 100% z naturalnego drewna zabawka do sortowania kształtów jest gładka i zaokrąglona bez zadziorów, aby chronić małe rączki. Każdy kawałek drewna pokryty jest kilkoma warstwami nietoksycznego, bezwonnego, wodnego lakieru, który jest odporny na blaknięcie. Drewniane zestawy zabawek edukacyjnych są wykonane z lekkich materiałów i można je zabrać wszędzie, np. do klasy, na plac zabaw, do samochodu, samolotu czy do sali pociągu. Dzięki tym zabawkom Montessori dzieci mogą nauczyć się sortować kolory, liczyć, układać klocki, nazywać kolory, umieszczać pierścienie na kołkach i grać w gry w łowienie. Każda liczba i kształt drewnianych klocków ma odpowiadającą im pozycję. Rozwijaj koordynację ręka-oko swojego dziecka poprzez odnajdywanie odpowiednich pozycji.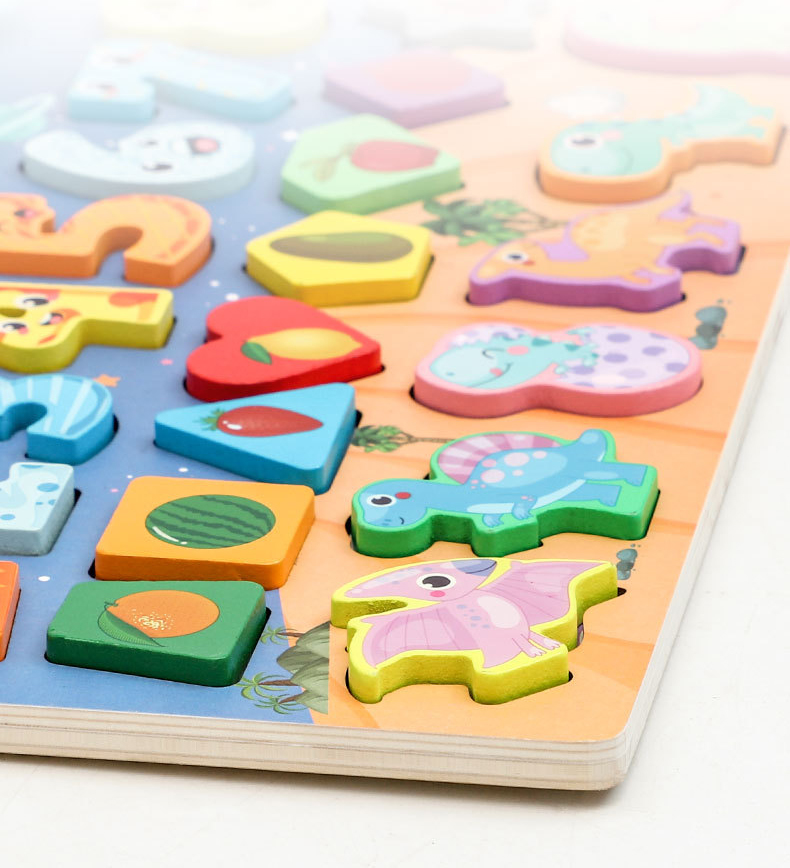 Dopasowywanie obrazków
Użyj jasnych kolorowych kształtów, aby dopasować i poprawić zręczność, koordynację ręka-oko, dopasowanie i relacje przestrzenne.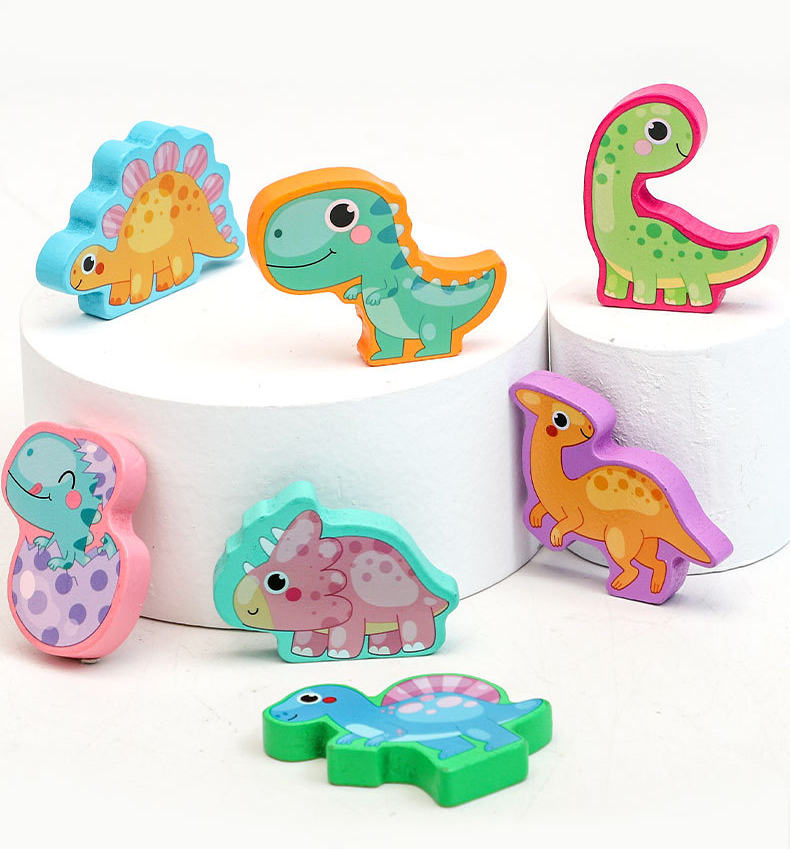 Drewniana zabawka edukacyjna z cyframi
Dzięki numerom bloków 1-10 i 3 blokowym symbolom arytmetycznym, możesz grać z dzieckiem w proste gry liczbowe, aby nauczyć je podstawowych liczb i prostego liczenia, pobudzając ich zainteresowanie nauką i wspierając rozwój intelektualny.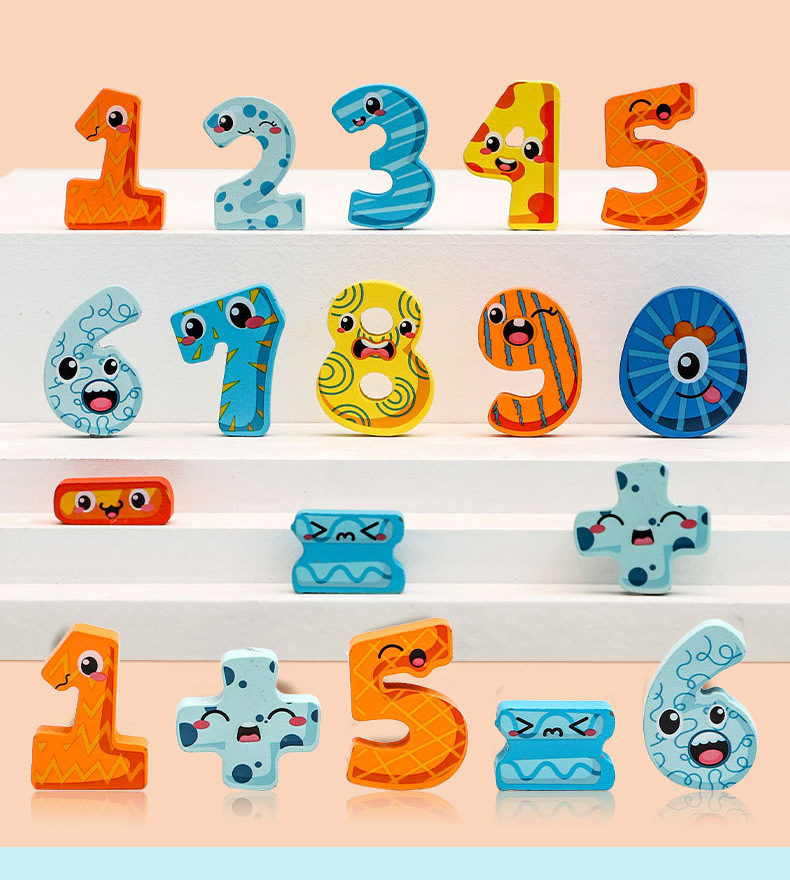 Narzędzia matematyczne mogą być również wykorzystywane jako zabawki przedszkolne, w tym zabawki do dodawania i liczenia dla 2s, 3s, 4s i 5s. Narzędzie matematyczne jest również idealne jako zabawka przedszkolna z zabawkami do dodawania i opowiadania. Pomaga rozwijać wczesne umiejętności sortowania, uczy kolorów i liczb, promuje koordynację ręka-oko, drobne umiejętności motoryczne, umiejętności rozwiązywania problemów i zachęca do kreatywności.
Zabawna gra w łowienie ryb
Rozwijaj umiejętności swojego dziecka podczas zabawy z Tobą. Po wybraniu cyfry lub kształtu, poproś dziecko, aby poszukało drewnianych rybek oznaczonych tą samą literą i kształtem, a następnie pomóż dziecku użyć magnetycznej wędki, aby włożyć właściwą rybkę z powrotem do odpowiedniego gniazda. Ta seria działań poprawi u dziecka koordynację ręka-oko, umiejętność rozwiązywania problemów i cierpliwość.
Zabawki w kształcie malucha
Poznaj różnorodność poznawczą kształtów geometrycznych i regularnych kolorów podstawowych. Każdy drewniany klocek z kształtem pasuje do koloru odpowiadającego mu gniazda na planszy i ma odpowiednią nazwę na planszy do nauki. Jasne i żywe kolory drewnianych kształtów rozwijają u dzieci wrażliwość na kolory i wspierają umiejętność ich rozpoznawania.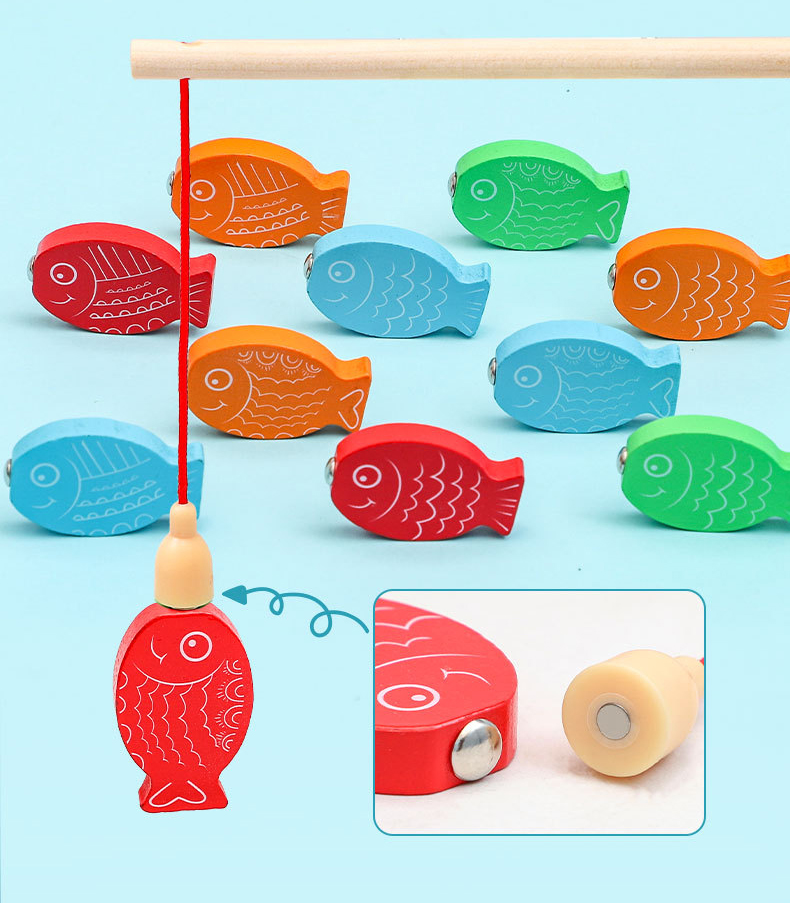 Prezent dla Twojego dziecka
Podaruj swojemu dziecku prezent w postaci wiedzy. Sposób na naukę liczb i kształtów dla dzieci w wieku od 2 do 5 lat. Pomaga rozwijać umiejętności językowe i uczyć się słownictwa. Prezent na urodziny, Boże Narodzenie i Nowy Rok