Cechy.
Zabawki dla dzieci bez bałaganu: spraw, aby długie podróże były znośne i zapewnij swoim dzieciom rozrywkę bez robienia bałaganu. Nasza magnetyczna tablica do rysowania to wszystko, czego potrzebujesz, aby zająć ich ręce, umysły i oczy na wiele godzin.
Baw się i ucz: jego unikalna konstrukcja wykorzystuje koncepcję magnetyzmu do stymulowania różnych receptorów zmysłowych, przebierając naukę za zabawę dla przyjemnego doświadczenia edukacyjnego.
Przenośny i przyjazny w podróży: z zaledwie 17.5 x 21.5 x 1.2 cm tablicą magnetyczną i magnetycznym piórem numerycznym, możesz łatwo zabrać te zabawki na długie podróże, loty lub podróże pociągiem bez dodawania do torby.
Nie wymaga gumki: wystarczy skierować magnetyczną końcówkę pióra numerycznego na każdy otwór, aby przesunąć magnetyczne koraliki na powierzchni, pozwalając dziecku na wykorzystanie swojej kreatywności. Aby wymazać, wystarczy użyć boku pióra, aby je przesunąć w dół.
Zabawny i wyjątkowy prezent: zrób ekscytujące gry dla maluchów i zabawki magnetyczne dla każdego. Kliknij "dodaj do koszyka" teraz, aby zapakować go jako prezent, z którego może cieszyć się cała rodzina!
Specyfikacje.
Materiał: ABS
Rozmiar: 17.5 x 21.5 x 1.2 cm
Waga: 330g
Pomóż swojemu dziecku dobrze się bawić i rozwijać.
Zachęcaj swoje dziecko do kreatywności! Niemal od razu, gdy dziecko potrafi mówić, wymyśla historie i tworzy obrazy z niczego. Jego magnetyczna podkładka pozwala dziecku tworzyć bez wskazówek, dając mu całkowitą wolność wyobraźni. Z każdym bazgrołem Twoje dziecko będzie ćwiczyć umiejętności drobnej motoryki i oryginalne myślenie, budując narzędzia poznawcze, które będą trwać przez całe życie.
Zachwyć się obrazami, które pojawiają się
Ciesz się magnetyczną podkładką, która sprawia, że rysowanie staje się magiczne. Śledź wróżki, szczeniaki, domy lub cokolwiek innego w swojej wyobraźni i obserwuj, jak magnetyczna podkładka do bazgrołów ożywia Twoje rysunki. Twój ołówek wyprowadza świecące koraliki na powierzchnię, dzięki czemu pojawiają się kształty bez wyskakujących koralików. Gdy skończysz swoje arcydzieło, zresetuj planszę i kontynuuj zabawę. Jednym ruchem ręki magnes odpadnie i oczyści płótno dla kolejnego dzieła.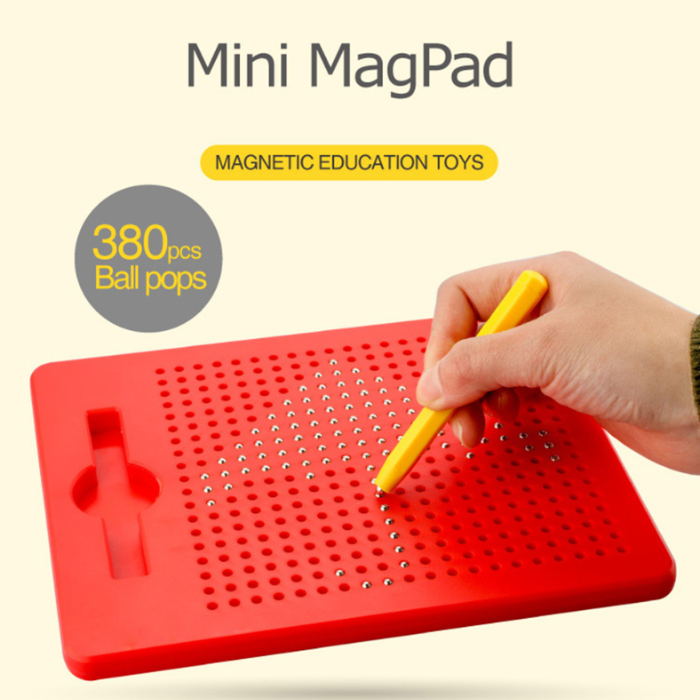 Pozwól dziecku zgubić się w nowym planie lekcji
z Zadbaj o ekspansywny umysł swojego dziecka! Rozrywka i zaangażowanie: mini tablica do rysowania Twojego malucha to zabawka, którą pokochają zarówno dzieci, jak i rodzice. Dzieci szkolone w magii magnetycznej ćwiczą umiejętności, nie zdając sobie z tego sprawy, umiejętności, które przyniosą im korzyści przez resztę życia. Wypełnianie pustych plansz pobudza kreatywność i oryginalne myślenie, a rysik zachęca do rozwijania umiejętności drobnej motoryki i koordynacji. Kiedy nadszedł czas, aby zagłębić się w alfabet, uczyń edukację ekscytującą, śledząc litery dla dzieci na swojej aktywności magnetycznej.
Podarowanie daru kreatywności
Podziel się radością wyobraźni przy następnej okazji do wręczenia prezentu! Idealne dla malucha w twoim życiu, młodej rodziny lub przedszkolaka, zabawki STEM twojego 2-letniego chłopca i dziewczynki z pewnością zachwycą swoim nieskończonym potencjałem twórczym i korzyściami edukacyjnymi. Wykonana z trwałego tworzywa sztucznego deska kreślarska to prezent, który będzie przechowywany przez lata.