Cechy.
Pełzający krab zabawka dla dzieci: szybko się porusza, macha na boki jak prawdziwy krab, gra wesołe dźwięki i muzykę oraz świeci. Posiada czujniki, które zmieniają jego kierunek, gdy zbliża się do przeszkody.
Zabawka na brzuszek: niemowlęta w wieku od 0 do 6 miesięcy uwielbiają patrzeć, jak krab biega dookoła, leżąc na plecach! Idealna dla niemowląt, które mogą za nią podążać i ćwiczyć mięśnie szyi. Świetna zabawka do motywowania dzieci, które nie chcą podnosić głowy w czasie prone.
Pomaga dziecku raczkować: Twój 6-12 miesięczny maluch będzie absolutnie zafascynowany sposobem, w jaki krab raczkuje. Twoje dziecko będzie próbowało przeczołgać się i złapać go. Oczywiście nigdy nie uda im się go złapać ze względu na czujniki unikania przeszkód.
Urocza zabawka Montessori: zabawi nie tylko Twojego malucha, ale także Twojego pupila. Starsze dzieci też je uwielbiają. Cała rodzina będzie oczarowana tą uroczą zabawką Montessori - krabem. Całkiem zabawna i interaktywna! Dzięki temu wszyscy są zadowoleni i chichoczą.
Spersonalizowany prezent: Uroczy raczkujący krab to wyjątkowy prezent, który przedłuża czas brzuszka dla niemowląt w wieku 0-3 6-12 miesięcy, zachęca do raczkowania dla niemowląt w wieku 0-6 6 do 12 miesięcy, pomaga maluchom od 1 roku 12 miesięcy i sprawia, że dzieci grymaszą. Kraby pełzające to nowa fala prezentów urodzinowych i świątecznych, takich jak pończochy bożonarodzeniowe czy wielkanocne.
Kolor tego zielonego raczka to jaskrawy kolor, który podoba się maluchom i przyciągnie ich uwagę.
Ładuje się za pomocą przewodu, a nie za pomocą baterii. Przychodzi gotowy do użycia zaraz po wyjęciu z pudełka.
Oczy kraba świecą, a krab gra muzykę, gdy porusza się tam i z powrotem.
Na zewnątrz każdego pazura znajdują się czujniki, które każą krabowi poruszać się w przeciwnym kierunku.
Idealna dla małych raczkujących dzieci, które dopiero zaczynają raczkować.
Krab pomoże dziecku nauczyć się raczkować, gdy będzie próbowało go złapać.
Ten krab sprawi, że małe raczki będą zadowolone. Gotowy do przeprowadzki!
Dzieci uwielbiają patrzeć, jak kraby chodzą tam i z powrotem!
Jedzenie krabów na żołądku zachęci je do rozglądania się i podnoszenia głowy do góry.
Pomóż dziecku budować siłę szyi w czasie prone.
Idealne do zachęcenia małych dzieci do nauki chodzenia.
Twój mały chodzik będzie podążał za ruchomym krabem w wózku dla maluchów.
Wszędzie były chichoty, interaktywność i zabawa.
Dzieci uwielbiają się za nim uganiać i chichotać!
Cała Twoja rodzina śmieje się ze zwierzątek odbijających się od pełzających krabów.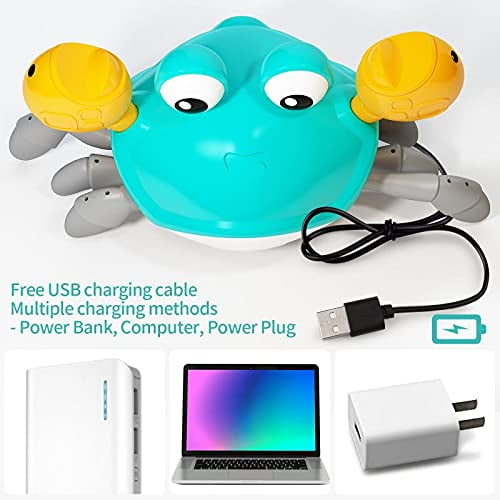 Długi czas gry
Elektroniczne muzyczne zabawki krab zasilane baterią litową 3,7V, 2 godziny ładowania wystarczą na 20-30 minut pracy non-stop. Pakiet z kablem do ładowania USB. Jest to bardzo wygodne do ładowania za pomocą ładowarki USB, komputera, banku energii. Upewnij się, że zabawka jest wyłączona podczas procesu ładowania.
Idealne dla raczkujących, chodzących i będących w ruchu dzieci!
Starsze dzieci też je uwielbiają.
Jeden z nowych prezentów dla dzieci na Boże Narodzenie, Wielkanoc itp. Przynosi radość całej rodzinie.
Specyfikacje.
Materiał: tworzywo sztuczne
Rozmiar produktu: 14*23*11CM
Kolor pudełka rozmiar: 21.8*13*10.5CM
Waga: 310g