Twórcza wyobraźnia Twojego dziecka potrzebuje ujścia, które nie tylko pozwoli mu na swobodne wyrażenie siebie, ale także nauczy go cennych umiejętności w tym procesie.
Po godzinach swobodnej zabawy i kreatywności dzieci mają okazję zbudować budowle swoich marzeń, od ulubionych postaci filmowych po rezydencję godną króla.
Cechy.
Bezpieczne, trwałe materiały: wolne od lateksu, ftalanów i BPA, wykonujemy każdy zestaw z plastiku ABS klasy spożywczej, aby zapewnić bezpieczeństwo Twojego dziecka, bez uszczerbku dla wytrzymałości naszych magnetycznych kształtów. Niezależnie od tego, czy dzieci bawią się w domu czy na zewnątrz, wytrzymają one lata stymulacji i będą odporne na uszkodzenia.
Stem Certified: uczenie się to wybryk, a edukatorzy są zgodni. Ponieważ promują one rozwój umiejętności matematycznych, naukowych, przestrzennych i dotykowych, nasze kształty magnetyczne znajdują się w planach lekcji na całym świecie.
Żywe, niezamglone odcienie: kształty magnetyczne w tym zestawie cechują się żywymi kolorami i atrakcyjną przezroczystością, podobną do witraży, w różnorodnych kwadratach i trójkątach.
Idealny prezent: ta zabawka to idealny prezent dla Twojego dziecka. To świetny prezent dla małych dzieci, polecany na urodziny i święta.
Specyfikacja.
Produkt: Zmienne Magnetyczne Klocki Budowanie
Materiał: Plastik
Rozmiar.
14szt: 23.8*17.3*4.3cm
20szt: 23. 8*17. 3*4.3cm
30szt: 27*18.7*5.5
Waga:
14szt: 364g
20szt: 468g
30szt: 750g
Oryginalne magnetyczne płytki budowlane 3D inspirują wyobraźnię od 1997 roku
Asortyment marki Magna-Tiles to oryginalna konstrukcja magnetyczna klasy premium na rynku, oferująca bezpieczną zabawę w wyobraźni, która sprawia, że matematyka i nauka stają się zabawne i wciągające dla dzieci w każdym wieku.
Od ponad 20 lat płytki Magna-Tiles przekraczają oczekiwania rodziców w zakresie bezpieczeństwa, trwałości i są zabawkami, którymi dzieci chcą się bawić, gdy inne zabawki w pudełku z zabawkami są już dawno zapomniane.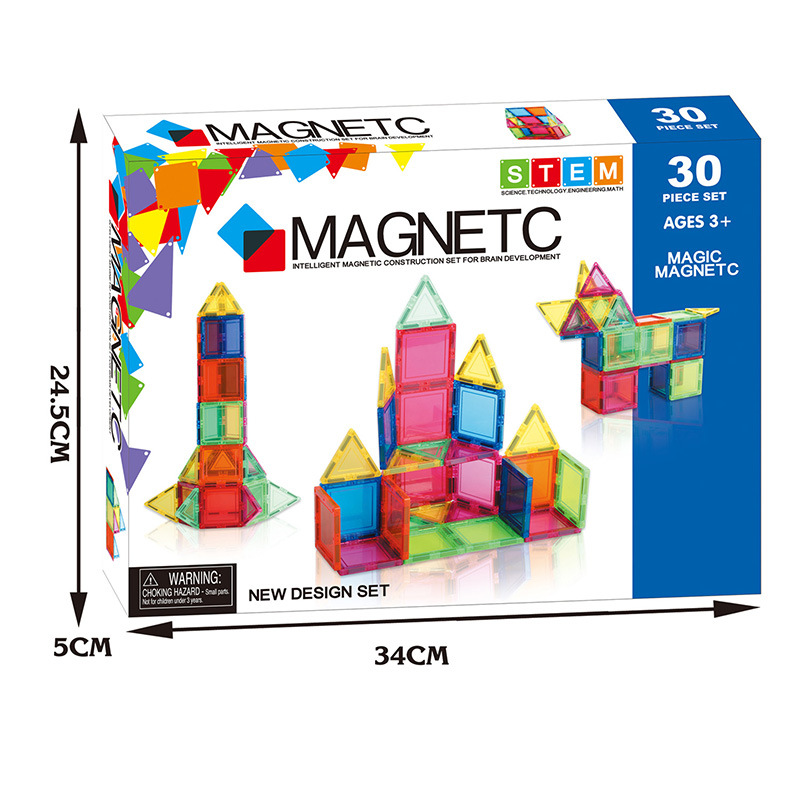 Dlaczego warto wybrać Magna-Tiles?
Magna-Tiles posiadają certyfikat STEM i inspirują do wielogodzinnej, swobodnej zabawy, niezależnie od tego, czy są układane w domu, czy w grupie. Nie ma właściwego lub niewłaściwego sposobu korzystania z nich - zamiast tego, ten ważny czas zabawy bez ekranu zachęca dzieci do odkrywania swojej wyobraźni, pomagając im jednocześnie rozwijać istotne umiejętności, takie jak
Rozpoznawanie kształtów
Dopasowanie
Projektowanie i budowa
Drobne i duże umiejętności ruchowe
Równowaga i symetria
Zasady magnetyczne
Rozwiązywanie problemów
Praca zespołowa
i wiele innych...
Z tego powodu nasze zabawki magnetyczne dla dzieci są wysoko cenione przez pedagogów, czy to nauczycieli klasowych, czy rodziców uczących w domu, i często pojawiają się w planach lekcji, eksperymentach i innych.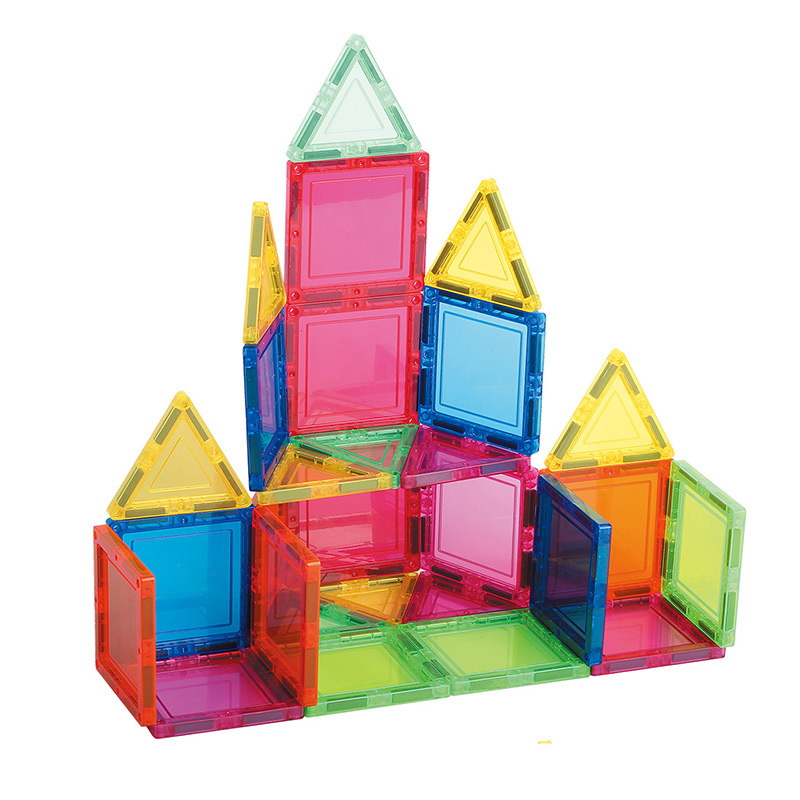 Co jest bezpieczne.
Wszystkie płytki Magna-Tile spełniają lub przewyższają specyfikacje bezpieczeństwa określone przez wiodące organizacje bezpieczeństwa, w tym ASTM, CPSIA, CPSC i EN71.
100% nietoksyczny plastik ABS klasy spożywczej, wolny od BPA i ftalanów.
Unikalna konstrukcja w stylu szprychowym.
Wszystkie oryginalne produkty Magna-Tiles pokazują.
Gładka uszczelka Magna-Tiles z krawędziami w poprzeczną kratkę z metalowymi nitami narożnymi
Spawane ultradźwiękowo
Magnesy są całkowicie obudowane ultradźwiękowym spawaniem, co zapobiega łamaniu się płytek podczas zabawy, pozwalając dziecku na maksymalną zabawę bez wypadków.

Uczenie się wczesnych pojęć matematycznych.
Puzzle obrazkowe Wzory budowania liczb Proste dodawanie zdań
Nauka
Zaangażuj dzieci w kreatywną zabawę, aby pomóc im w nauce i ćwiczeniu różnych umiejętności i koncepcji, w tym między innymi: zasad magnetycznych świecenia w ciemności właściwości grawitacji
Kreatywność
Angażuje ze wszystkich stron i we wszystkich kombinacjach, pomagając dzieciom tworzyć od dwóch do trzech wymiarów. Wypróbuj te zabawne alternatywy dla zabawy na podłodze.
Gra w pionie na drzwiach garażowych, panelach magnetycznych, metalowych blachach do pieczenia i lodówkach Gra na zewnątrz lub w pobliżu okien Lekka gra na stole