Co to są Magic Water Sticky Beads?
Magic Water Sticky Beads to wyjątkowe koraliki, które sklejają się z wodą. Po wykonaniu pracy plastycznej wystarczy spryskać je wodą i będą przylegać, nie trzeba prasować. Dzięki temu zestawowi dzieci mogą projektować i tworzyć piękne i urocze kształty, tworzyć własne ozdoby świąteczne własnymi rękami lub dawać je jako prezenty noworoczne i urodzinowe dla dzieci, niezależnie od tego, czy są to chłopcy czy dziewczynki.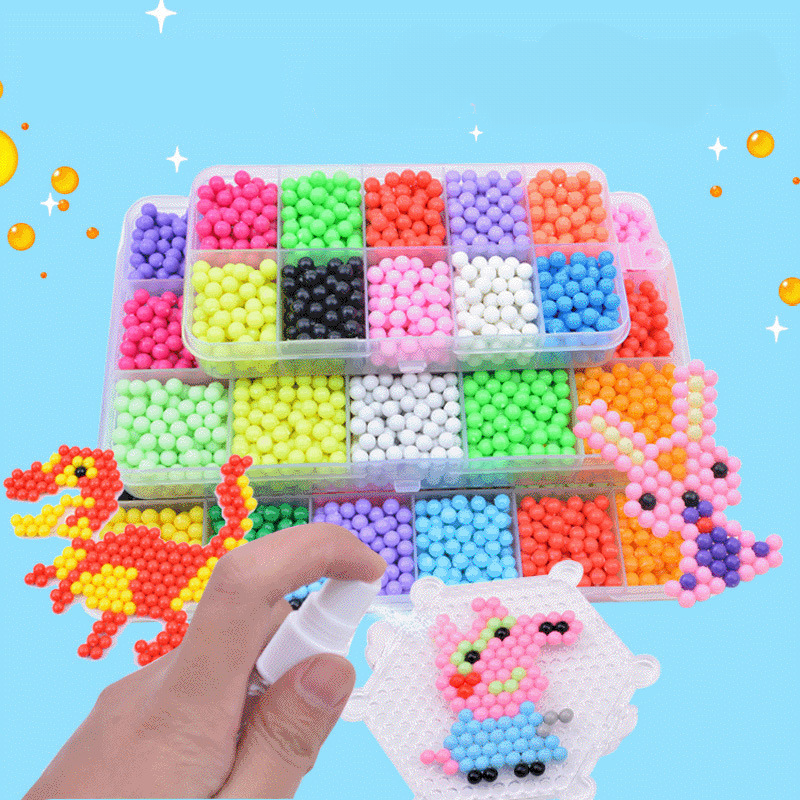 Bezpieczne materiały
Wyprodukowane z wysokiej jakości nietoksycznego materiału PVA i posiadające certyfikaty ASTM i CPC. Zapewnia bezpieczeństwo i zdrowie
Umiejętności manipulacyjne
Poprawia u dzieci drobne umiejętności motoryczne i koordynację ręka-oko, rozpoznawanie kolorów i kształtów; podstawowe liczenie i artystyczne wyrażanie siebie.
Nie trzeba ich prasować, wystarczy spryskać wodą, a będą się trzymać razem.
Pozostawić w temperaturze pokojowej na 1-2h i wysuszyć na słońcu, lub użyć grzejnika do suszenia. (Szybkość suszenia jest różna latem i zimą)
Świetnie nadaje się na prezent
Magiczne koraliki mgły wodnej są doskonałą zabawką dla chłopców i dziewcząt wnuków studentów; idealny na urodziny, Boże Narodzenie, wakacje, wewnątrz / na zewnątrz działalności i wszelkie wakacje.
Specyfikacja.
Materiał: Plastik
Rozmiar.
15 przegródek: 17.5c*10*2.5cm
24 przedziały: 19*13*2.3cm