Cechy:
360 ° obracane światło projektora: obrotowa konstrukcja sprawia, że ten gwiezdny nocny projektor światła jest jeszcze bardziej zabawny. Niezależnie od tego, czy chcesz obracać go dynamicznie, czy obracać go w miejscu, zapewnia on oszałamiający i żywy efekt wizualny. Doskonale nadaje się do sypialni dziecięcych
Kolorowy sen projekcyjny: światło projekcyjne posiada dwa tryby. Projekcja gwiazd przekształca sypialnię dziecka w małe nocne niebo z księżycem i wieloma gwiazdami. Abażur morski, sypialnia dziecka może być zamieniona w morski świat z wieloma uroczymi wielorybami, delfinami, meduzami, wodorostami i innymi. Wspaniała zabawka dla dzieci
Lampka nocna Quiet Sleep: Ciepłobiała monochromatyczna lampka nocna, która automatycznie przełącza się w tryb światła sennego. Dzięki temu można umieścić to światło snu w swoim pokoju i spać spokojnie
2 tryby zasilania: lampka nocna dla dzieci jest dostarczana z 2 trybami zasilania za pomocą 4 baterii AAA lub kabla USB, dzięki czemu można ją zabrać na zewnątrz lub ozdobić sypialnię dziecka. Nasza lampka nocna projekcyjna zawiera kabel USB (baterie nie są dołączone)
Prezent dla dzieci: idealny do sypialni dziecka lub gdziekolwiek chcesz wyświetlać kolorowe gwiazdy, księżyc, zwierzęta morskie. Zrobi wrażenie, gdy zabierzesz projektor na urodziny, wesela, spotkania rodzinne i inne okazje
Specyfikacja.
Nazwa produktu: Mała piłka Star Light
Materiał: ABS
Kolor: Biały/czarny/niebieski/różowy
Rozmiar:12*12*10.3CM
Rozmiar opakowania: 12.5*12.5*10.5CM
Napięcie wejściowe: DC 5V 1A
Tryb ładowania: ładowanie przez USB / akumulator 4aaa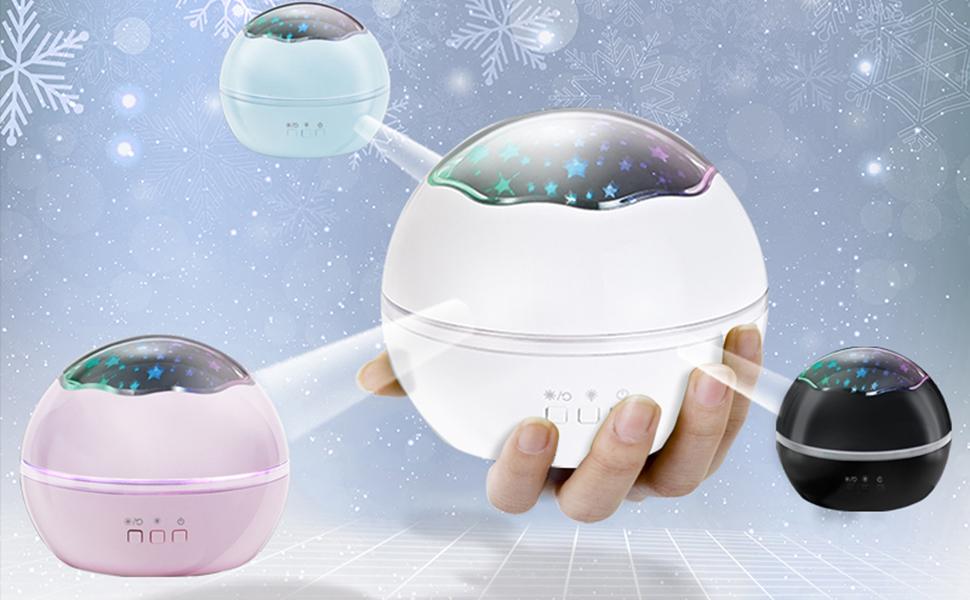 2 w 1 Wielofunkcyjny dziecięcy gwiezdny nocny projektor światła 360° obracający się projektor LED gwiezdne niebo i świat morza z 8 światłami i uroczą różnorodnością wzorów, poczujesz się jak w środku gwiezdnego nieba lub morza. Idealny do pokoju dziecięcego, chłopców, dziewcząt, mężczyzn, kobiet, sypialni, romantycznych wieczorów lub imprez, natychmiast więcej zabawy.
Funkcje lampki nocnej z projekcją gwiazd.
Przyciski oprawki lampy
Prawy przycisk: Włączanie/wyłączanie zasilania
Środkowy przycisk: 8 efektów świetlnych projekcji
Lewy przycisk: włączanie/wyłączanie obrotów i ciepłego światła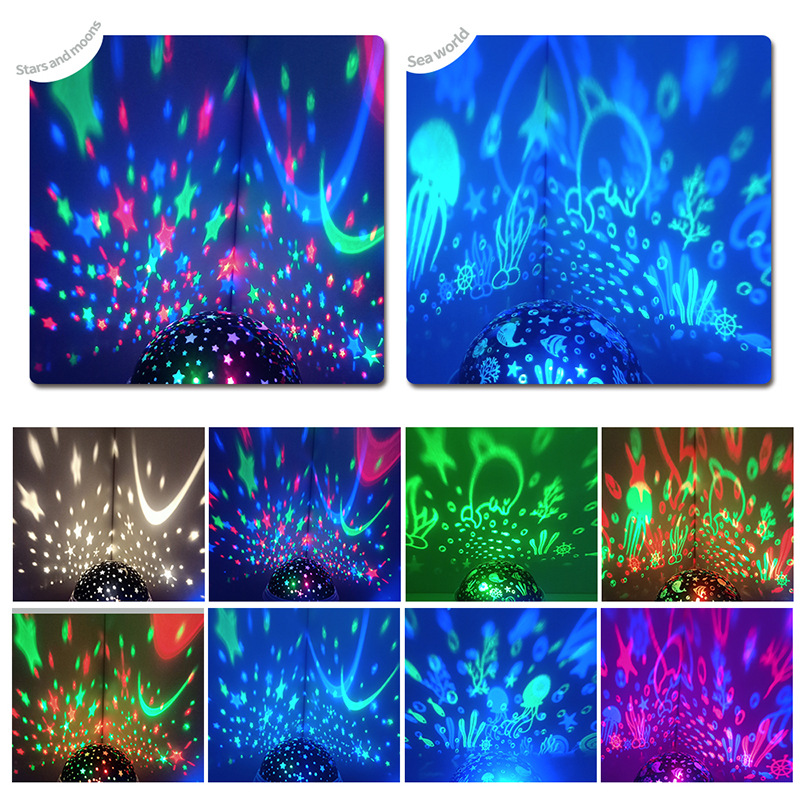 Lampka projekcyjna Starry Night Light przekształca sypialnię dziecka w małe nocne niebo z księżycem i wieloma gwiazdami.
Gwiezdna lampka nocna zamieni sypialnię Twojego dziecka w uroczy świat oceanu pełen wielorybów, delfinów, meduz, wodorostów i nie tylko.
Obraca się bezgłośnie o 360 stopni.
Lampka do projekcji gwiazd może być lampką nocną. Lampka stanie się lampką nocną bez konieczności zdejmowania górnej pokrywy i śpij spokojnie w pokoju z tą lampką do spania.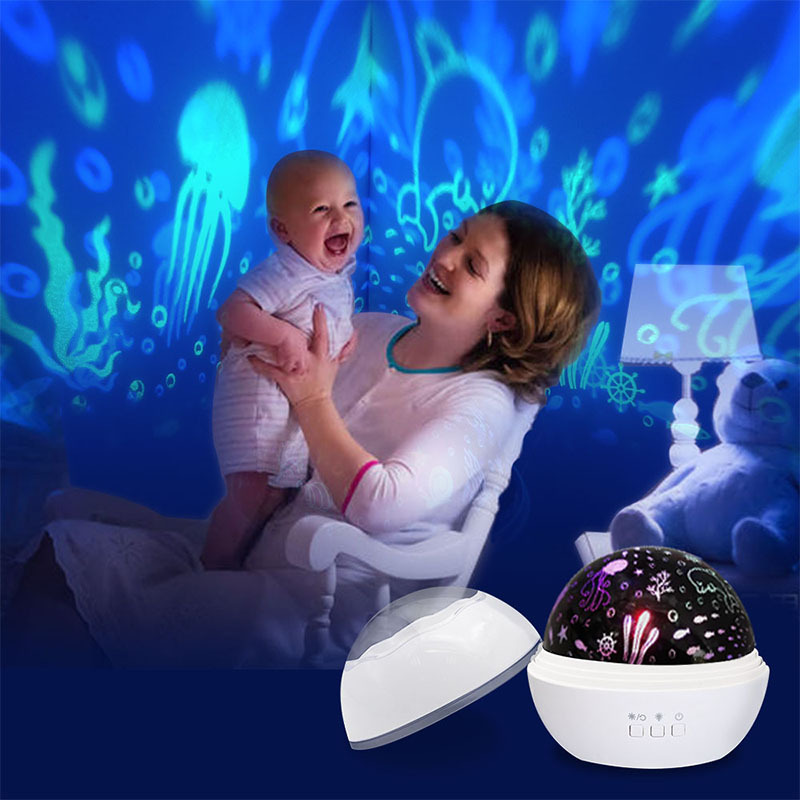 Ciesz się radosnym czasem z rodziną
Ta dziecięca projekcyjna lampka nocna występuje w dwóch różnych motywach: gwieździste niebo i podwodny świat. Dzięki niej stworzysz na swoich ścianach i suficie księżyc wypełniony gwiazdami i morskie zwierzęta. Jasny projektor gwieździstego nieba lub morza pomoże rozwinąć talenty i kreatywność Twojego dziecka.
Piękna lampka nocna na dziecięce sny
Lampka nocna LED Star Projection pomoże Ci dotrzymać towarzystwa Twojemu dziecku lub niemowlakowi i z pewnością zapewni im bardziej senny i niesamowity świat morza/gwiezdnego księżyca.
Lampka nocna Star jest idealna dla dzieci, aby stworzyć komfortowy i relaksujący sen. Jest to zabawny prezent dla dziecka, dzieci, przyjaciół i bliskich.