Cechy.
Zabawka wysokiej jakości: doskonała do wczesnej nauki. Produkt można wykorzystać jako narzędzie do nauki, jako tablicę informacyjną lub przyczepić do lodówki. Może rozwijać u dziecka umiejętności logicznego i mózgowego myślenia, rozpoznawać różne kolory, ćwiczyć umiejętność współpracy i doskonalić umiejętności manualne.

Poznaj zestaw alfabetu: ta zabawka do literowania alfabetu posiada dwa kompletne zestawy kolorowych liter od A do Z oraz 16 stron naklejek. Poprawia umiejętności dziecka w zakresie nauki i ortografii, a także wspomaga pamięć, umiejętność myślenia, rozpoznawanie kolorów i koncentrację.
Staranne i niepowtarzalne wzornictwo: kolorowe grafiki: zwierzęta, rośliny, ludzie itp. długopisy i gumki. Przy pisowni można wpisać kilka słów, aby pogłębić wrażenie. Jest to pierwszy krok do rozwoju dziecka.
Kolorowe literki magnetyczne: kolorowe piankowe literki, które przyczepia się do panelu książki, idealny rozmiar dla małych rączek. Silny magnetyzm, niełatwo odpadają i można je dowolnie dobierać do naklejek.
Bezpieczne i niezawodne: wszystkie części wykonane są z materiałów przyjaznych dla środowiska, bez smaku i bez chemikaliów, nietoksyczne i bezwonne, szlifowane i malowane. Każda krawędź jest zaokrąglona, szlifowana na gładko i bez zadziorów, miękka i gładka w dotyku, gruba i przepiękna, kolorowa, nie raniąca rąk ani dzieci. Solidna konstrukcja zapewnia trwałość i długowieczność, zapewniając maksymalną ochronę dla Twojego dziecka.
Wszechstronne i bezpieczne: aby rozwijać umiejętności myślenia, nasze zabawki intelektualne stymulują wyobraźnię, ocenę i cierpliwość dzieci. Rozwijana jest pamięć, rozpoznawanie kształtów i umiejętność wykonywania zadań. Nasze puzzle służą również do poprawy zdolności manualnych, koordynacji ręka-oko, drobnej motoryki i rozwiązywania problemów. Dodatkowo poznaj znaczenie pracy zespołowej.
Wieloosobowa gra w myślenie: Scrabble puzzle zaprojektowane dla 2 lub więcej graczy, idealne dla rodziców i dzieci, aby grać razem dla interaktywnej edukacji. Ta bezpieczna, urocza i dobrze wykonana gra edukacyjna to świetny wybór dla maluchów i przedszkolaków do nauki literek i słów.
Specyfikacje.
Nazwa produktu: Układanka słowna
Materiał: drewno
Rozmiar: 22*17,5*1,8cm
Waga: 300g
Zestaw zawiera.
1 x Edukacyjna gra słowna
1 x Długopis magnetyczny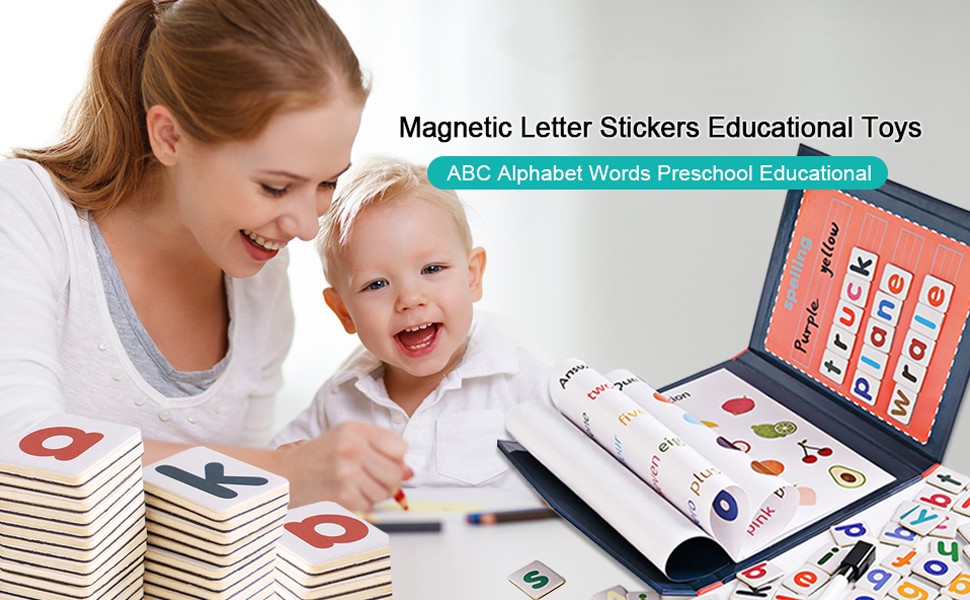 Inicjacja edukacyjna w celu pobudzenia zainteresowania
Budowanie silnych podstaw do nauki dla Twojej córki lub syna zaczyna się już od najmłodszych lat. Posiadanie odpowiednich zabawek edukacyjnych dla przedszkolaków pozwoli Ci zachęcić dziecko do zachowania ciekawości i rozwinięcia zainteresowania nauką, które zaprowadzi je dalej.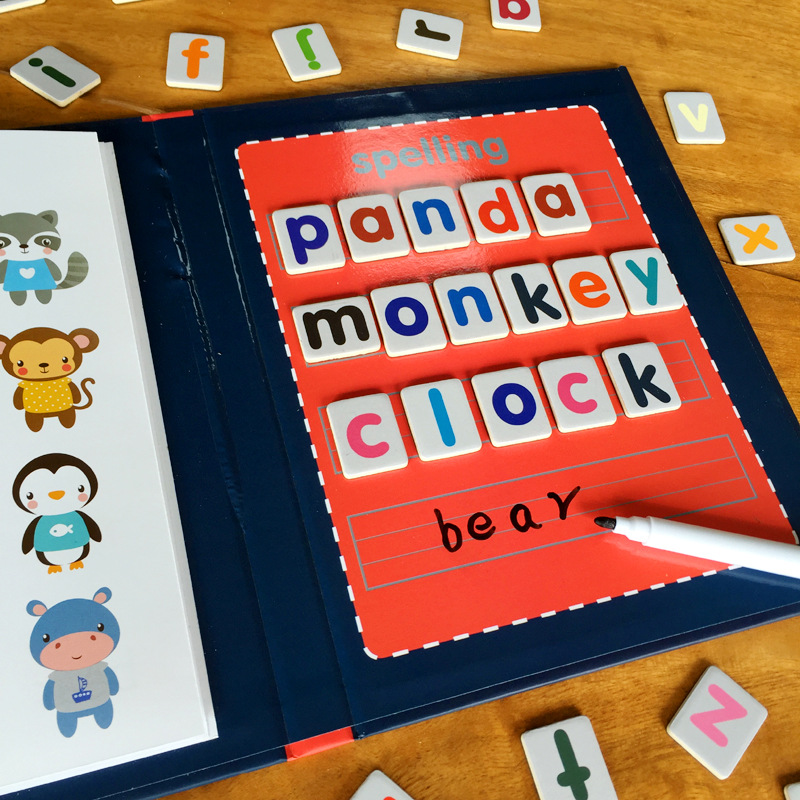 Wyjątkowy i wyrafinowany design
Wspaniałe narzędzie dydaktyczne, które pomoże dzieciom nauczyć się słownictwa o zwierzętach, transporcie, naturze i przedmiotach codziennego użytku, jednocześnie pracując nad ich drobnymi umiejętnościami motorycznymi!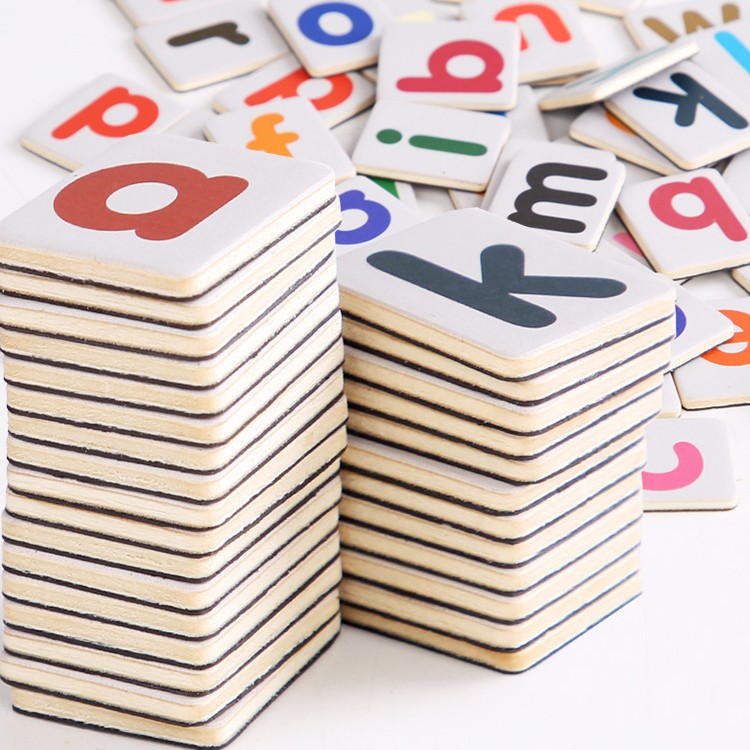 Magnesy na lodówkę
Te magnetyczne litery i cyfry na lodówkę stosuje się na lodówce, aby nie spadały na podłogę. Ponieważ są one drewniane i mają cienką magnetyczną warstwę wierzchnią, w ogóle nie uszkodzą lodówki.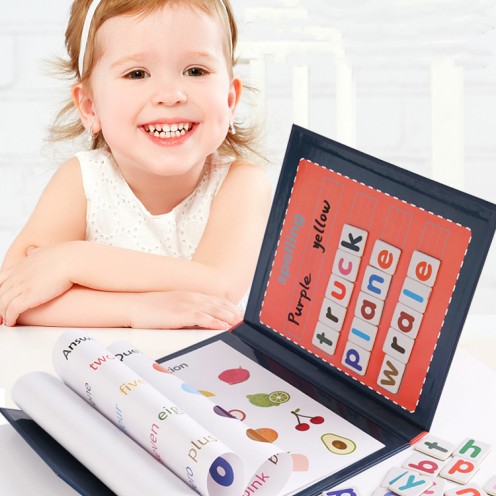 Edukacja wczesnoszkolna
Zestaw zabawek Learn to Spell jest idealny dla rodziców i dzieci do wspólnej zabawy, interakcji i edukacji. Jest to świetna zabawka przedszkolna, która pomaga rozwijać inteligencję dziecka. To pierwszy krok w rozwoju Twojego dziecka

Kreatywny prezent
Świetna zabawka przedszkolna, która pomaga rozwijać inteligencję dziecka. Zabawka dla maluchów to także doskonały prezent dla Twojego dziecka.