Cechy.
Literowa gra ortograficzna: otrzymasz 52 karty aktywności z ćwiczeniami matematycznymi i grami ortograficznymi, 10 kwadratów literowych, 5 płytek liczbowych z symbolami operacji, 1 tacę z literami. Specjalna gra dla dzieci do nauki ortografii i odnoszenia się do obrazków.
Podręczna zabawka edukacyjna: zabawne i edukacyjne dopasowane kostki z literkami są idealne dla małych rączek, a 52 karty są trwałe i stabilnie leżą w dłoni. Podczas gdy podnoszenie i układanie kostek jest ćwiczeniem drobnej motoryki, przeszukiwanie kostek z literami pomaga również dzieciom w udźwiękowieniu liter.
Awaryjna aktywność literacka: Gra w dopasowywanie liter pomoże Twojemu dziecku rozwijać się jako początkujący czytelnik. Zawiera kilka 3-literowych słów, które są świetnymi słowami CVC, które przedszkolaki mogą wymówić samodzielnie, idealny początek, aby zapoznać je z obrazkami, słowami wzrokowymi, pisownią i dźwiękami liter. Usprawnia słownictwo i fonologiczne obszary nauki.
Wspaniały wzmacniacz pewności siebie: gamifikowana nauka, której dzieci nie zauważają Stała ramka ma klapkę, którą można otworzyć lub zamknąć, aby wyświetlić lub ukryć słowa, dając dzieciom swobodę i pewność siebie, aby odkryć ortografię i czytanie na własną rękę.
Urządzenie do nauki uzupełniającej: ta wciągająca gra w dopasowywanie jest świetnym sposobem na oderwanie dzieci od elektroniki, podczas gdy uczą się one wymawiać 3 i 4 literowe słowa oraz wykonywać proste działania matematyczne. Idealne dla mam w domu, jako wyposażenie klasy lub inna pomoc dydaktyczna. Zostań pomocnikiem w rehabilitacji dzieci z nieuwagą, autyzmem, opóźnieniami mowy i nie tylko.
Specyfikacja.
Nazwa produktu: Maszyna do gry w listy
Materiał: Plastikowy arkusz papieru
Kolor: Niebieski/Żółty
Wiek, w którym można grać: 3 lata i więcej
Waga: 324,6g
Kolor pudełko rozmiar: 26.5X5X26.5CM
Konfiguracja: podstawa*1, instrukcje*1, karty*32, kwadraty z literami*10, elementy liczbowe*20, symbole arytmetyczne*5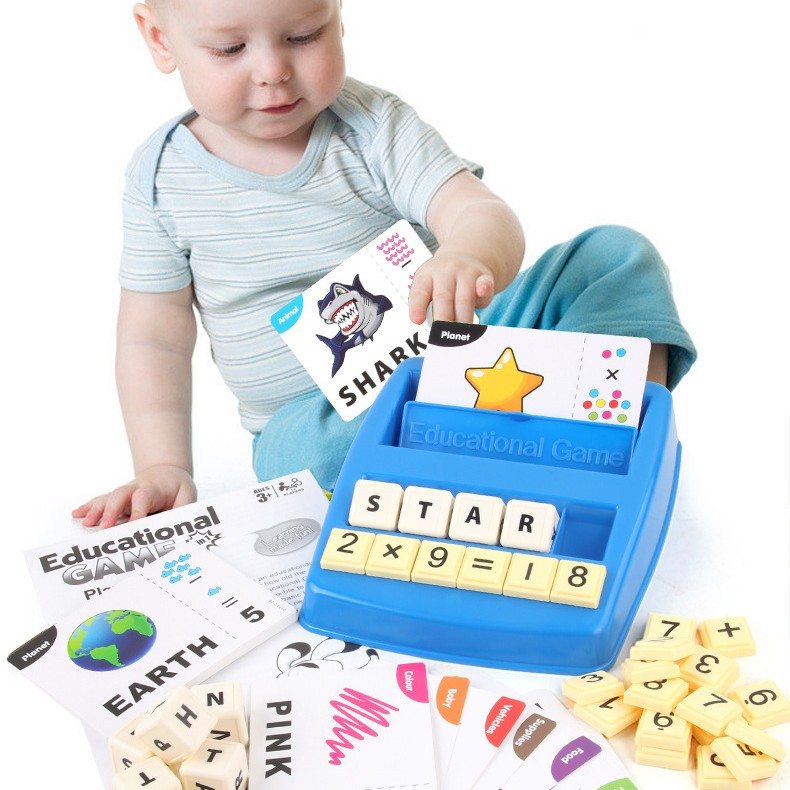 Świetna gra na funkcje wykonawcze
Posiada różne warianty rozgrywki, dzięki czemu jest ciekawa.
Plastikowy uchwyt z ruchomą częścią na karcie
Możesz zakryć lub ujawnić odpowiedzi na szczelinach.
Zakryj odpowiedzi i pozwól im bawić się samodzielnie.
Maluchy mogą zobaczyć wszystko
słowa i wpisz odpowiednie litery, aby dopasować
słowo. Wraz z wiekiem i postępem
Przełącz się na bardziej wymagający tryb
Zabawki symulujące intelekt
Gry w dopasowywanie liter są świetne do uczenia dzieci liter, ortografii i czytania.
Niezależnie od tego, czy masz dziecko, które nie znosi siadać do nauki liter, czy ma trudności z czytaniem lub ortografią
słowa, ta przyciągająca wzrok zabawka edukacyjna będzie hitem i sprawi, że oboje będziecie zaangażowani 5 z każdej litery na kostce są potrzebne
Z dala od elektroniki
Nauka liter i gier liczbowych to doskonałe narzędzie do rozwijania i wzmacniania dzieci
Rozpoznawanie liter, podstawy matematyki i ortografii. Wspólna nauka budowania ortografii i ćwiczenie prostego liczenia matematycznego to świetna zabawa. Nie dość, że są to gry dla rodziców i dzieci, to jeszcze świetnie sprawdzają się w rozpoznawaniu liter i gotowości do czytania. Dla dziecka z obsesją na punkcie gadżetów są one świetne do odłączenia i wyciągnięcia ich z maty lub telefonu i skutecznego ograniczenia czasu ekranowego. Manipulowanie tymi klockami z literami i liczbami to fajny sposób na uzyskanie praktycznych pozytywnych reakcji i daje dzieciom wiele sposobów na zabawę bez baterii.