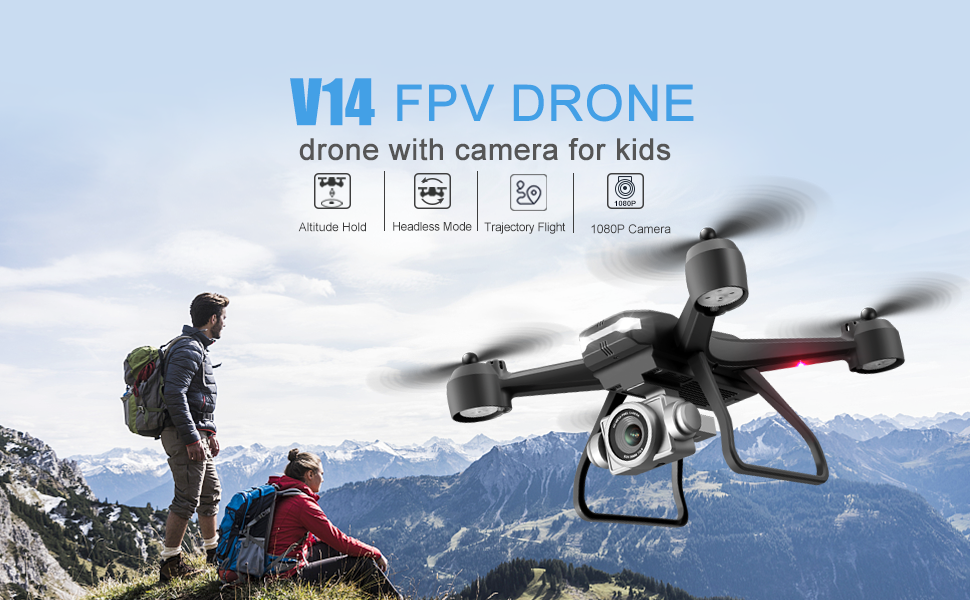 Main Feature
1080P FOV 120° HD FPV Camera: You can capture memorable moments with distortion-free and view images on your phone from the wide-angel lens. The app enables you to expand your creativity further and share it on social media with ease.

Intelligent Interactive Drone: The drone is integrated with smart voice control and gesture control. You can speak to control the flying direction, or pose to the camera to trigger photo/video shooting, adding fun to your flight

30 Min Flight Time: You can enjoy a maximum of 30-mins flight time with one powerful modular battery. The package comes with a storage box and 2pcs batteries, extending your flight time to 30mins amazingly. Besides, the modular battery is easier to install and safer to use.

Easy to Learn and Operate: Altitude-Hold function ensures a steady hover in the air at a certain altitude when no command was given. And upon just one tap, the drone will Take off/Land or Return back automatically. It also equipped with Headless Mode and 3 Speeds Switch functions, super friendly to beginners, newbies, and even kids

3D Flips and One Key Return:This quadcopter supports one button 3D flip function.Just press a button you can try amazing 3D flip mode;One Key Return: press this button in Headless Mode, the drone will automatically come back to you,easily control the drone's flight direction .

Advance Features: Waypoints flying is the newest technology that by drawing a flight course on your smartphone, the drone will fly accordingly; Show your palm or V sign to the front camera, V14will automatically take a photo or video.
Beginner friendly
The drone has a built-in 1080P camera, which can take high-resolution pictures and videos. Besides, the 90°adjustable lens enables you to see the world from a different angle.
Altitude Hold is a default setting in the drone, you can accurately lock the height. It's easy for beginner and kids to control it and get high-quality stable videos and photos.
With just a tap on a button, the drone will take off or land quickly. You can easily get it into air and have fun, or land it before it goes out of control.
In headless mode, the drone will fly in the direction the right control stick directs. You can fly the drone without worrying about what direction it is facing, especially when it is far away.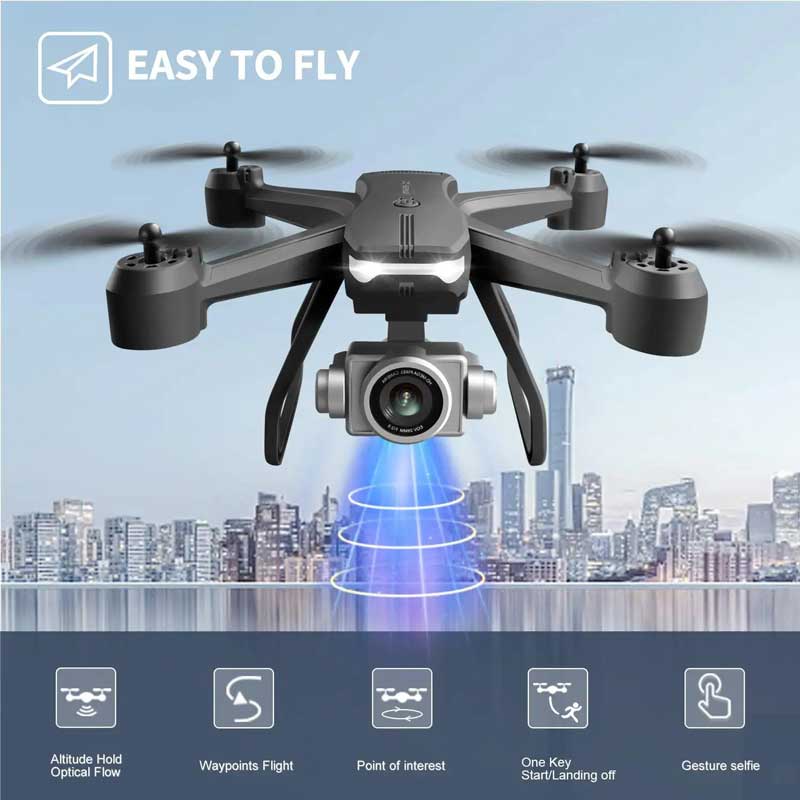 Easy control and beginner friendly
Beginner Friendly-Equipped with a GLONASS satellite navigation system, the V14 drone has several different flight modes that make it the perfect choice for those learning to fly. Beginner mode makes the drone much easier to operate for first-time pilots and the return to home function ensures that the drone returns home when the battery gets low or the signal from the controller is lost.
The one-touch control system allows you to easily achieve a series of controls such as take-off and landing, and return to flight.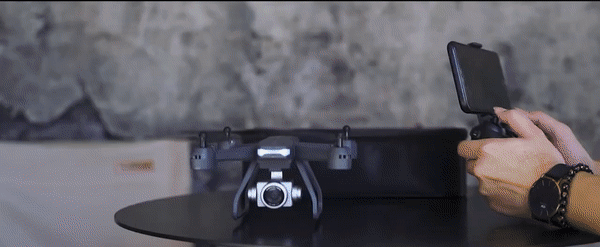 1080P pictures & Videos and FPV Function 
4K UHD camera captures your wonderful moments in incredible detail, and 5GHz FPV technology ensures longer and smoother image transmission.
Upgrade the dual camera, and switch the Angle of view arbitrarily. including adjustable angle, which captures high-quality video and clear aerial photos. you can see what your drone sees from your smartphone, and enjoy a live video feed up from 80m away with FPV transmission.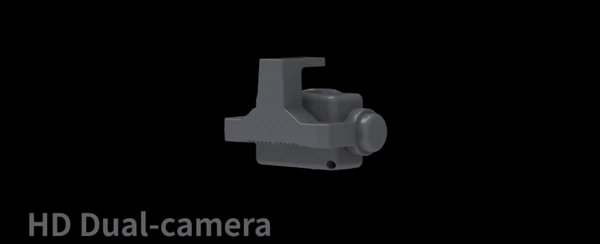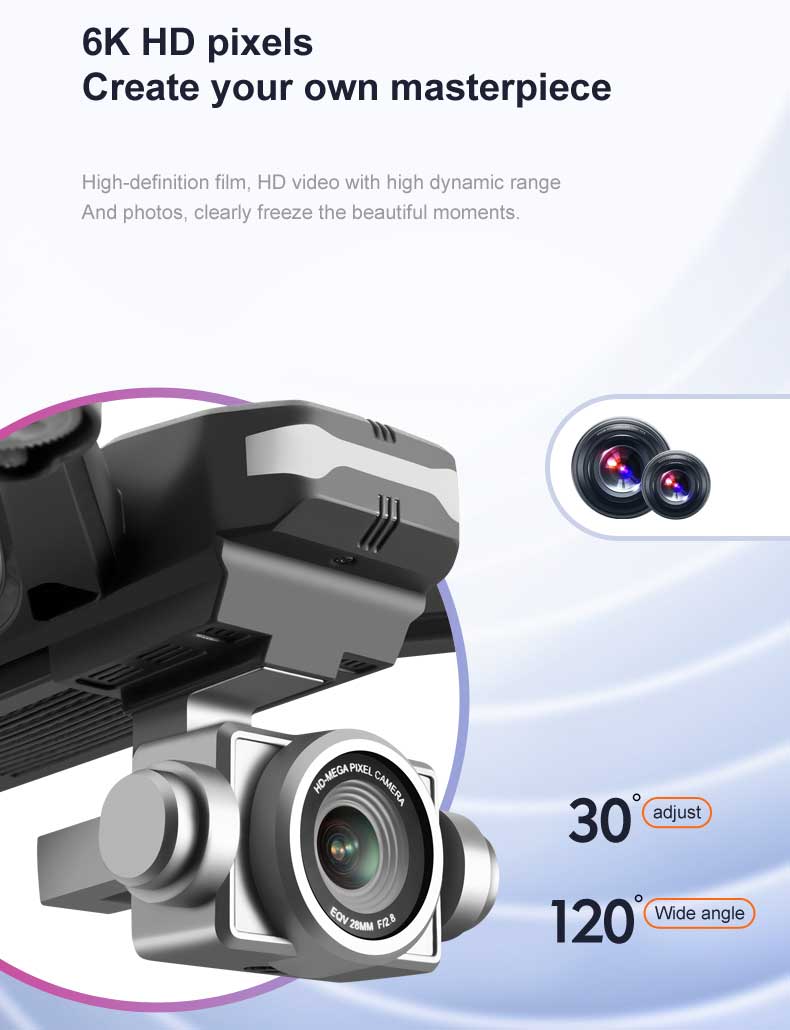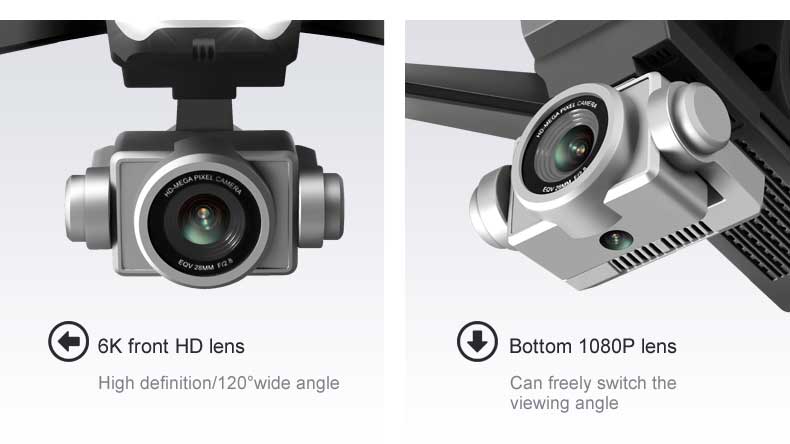 Altitude Hold
Altitude hold makes the drone hover in the air without throttle control; smart return home and emergency stop free your minds from losing the drone; One key take off/landing helps to get to suspension quickly and easily. A perfect drone for beginners.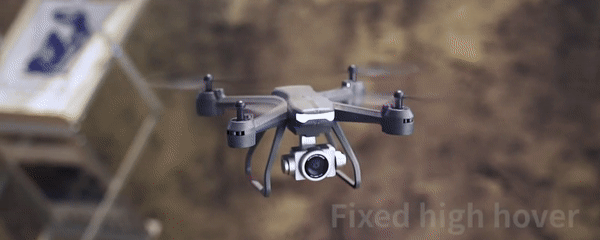 Trajectory Flight
APP draws the flight track, instantly follows the drawn track to fly, more intelligent!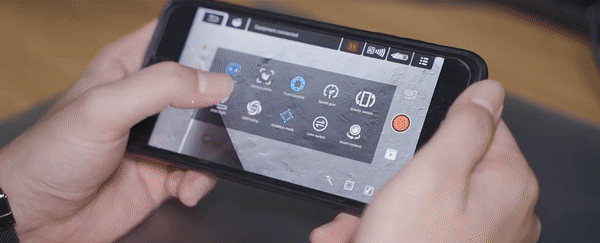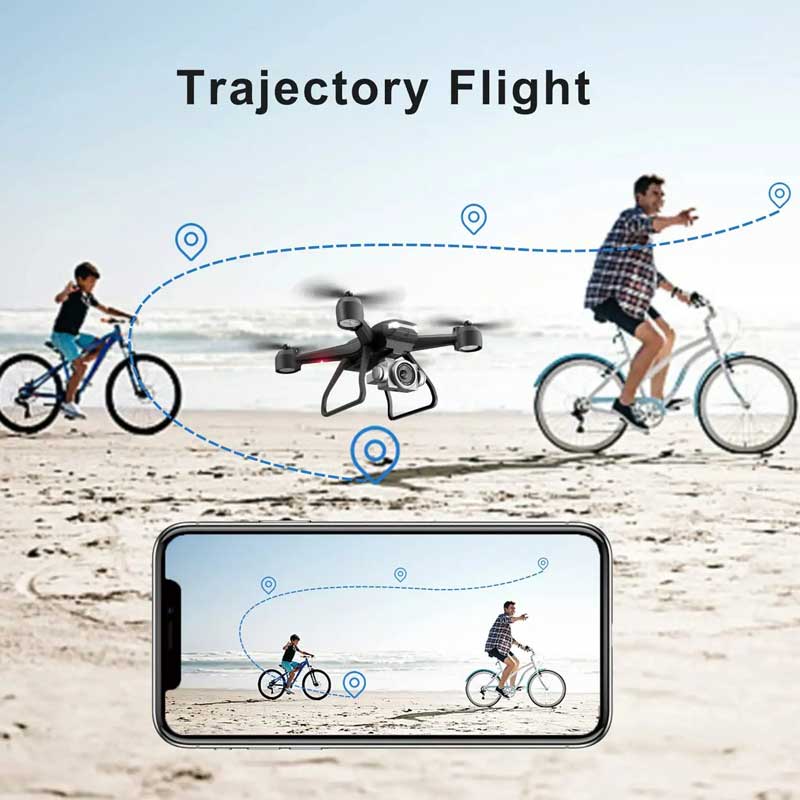 2 Modular Batteries-30 Minutes
Long-lasting and easy to install and remove. Motors & 30 Minute Flight Time motors offer more efficient flight performance, less noise, longer life, and fewer maintenance issues than standard motors. 
2 smart batteries extend your flights up to 30 minutes.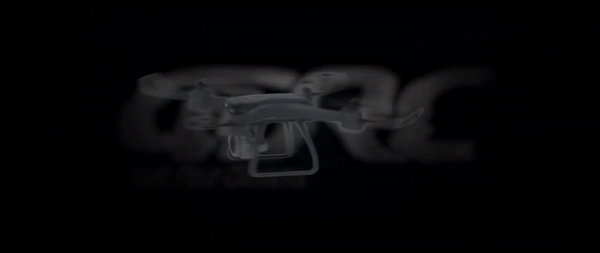 Gestures Control
Make gestures and the camera will start to work. Paper means recording Video; Scissors mean taking Photo.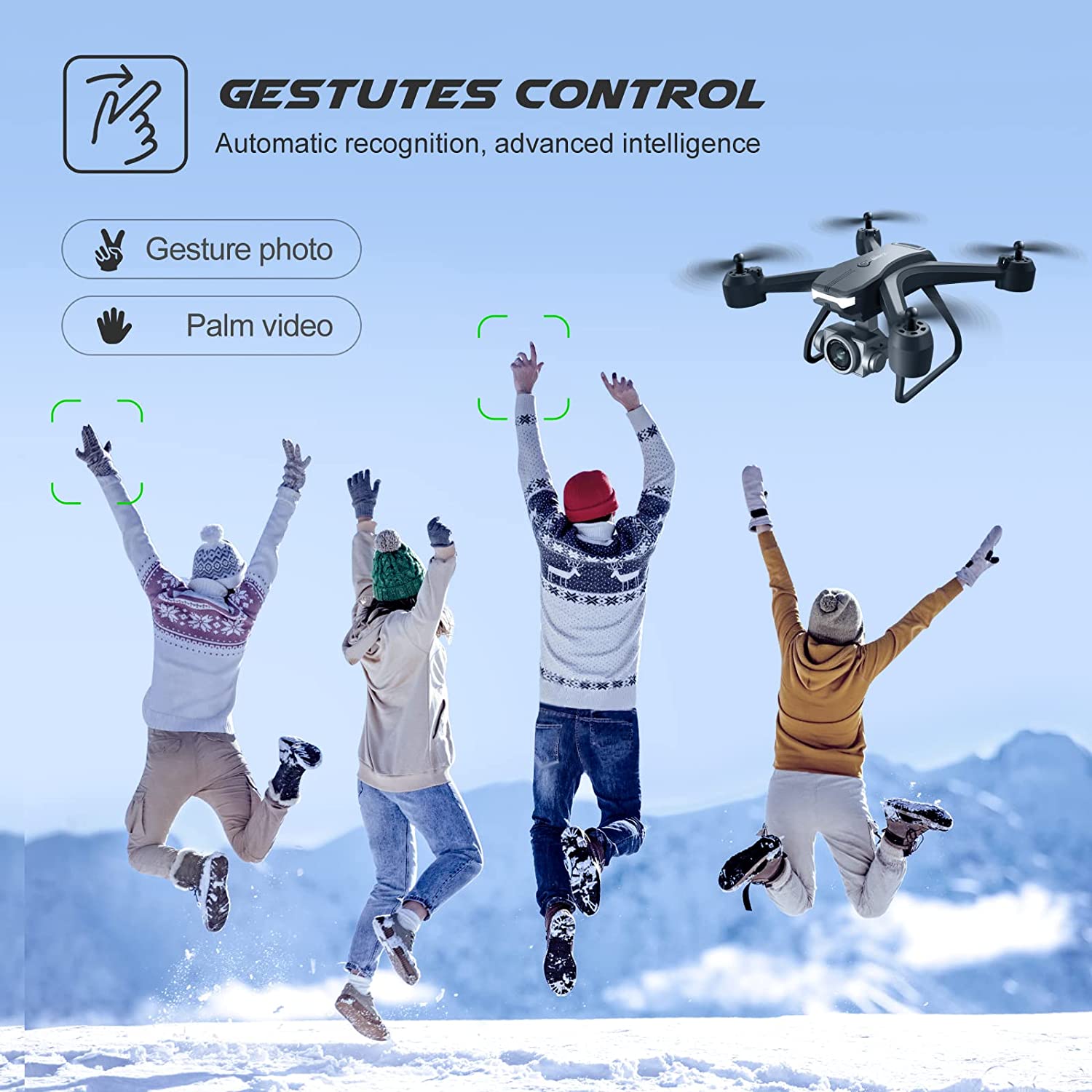 High Quality
 A compact design allows you to take the V14 with you wherever and whenever inspiration strikes. This lightweight and powerful camera drone will allow young pilots to take to the sky for the first time and is a perfect gift idea for Christmas, Valentine's Day, birthdays, anniversaries, etc.
The high-end drone body is made of high-strength and high-strength engineering plastic and metal, which is lightweight and durable.

Foldable and esay storage
This drone comes with a portable bag, foldable body design, convenient storage, and outdoor travel more portable. Air pressure height fixed. Return with a button. One button to land. It has a low power alarm, emergency stop, and 4 propeller guards to ensure a safe flight, safe charging, and longer flight. The high-end drone body is made of high-strength, high-tensile engineering plastic, and metal, lightweight and durable.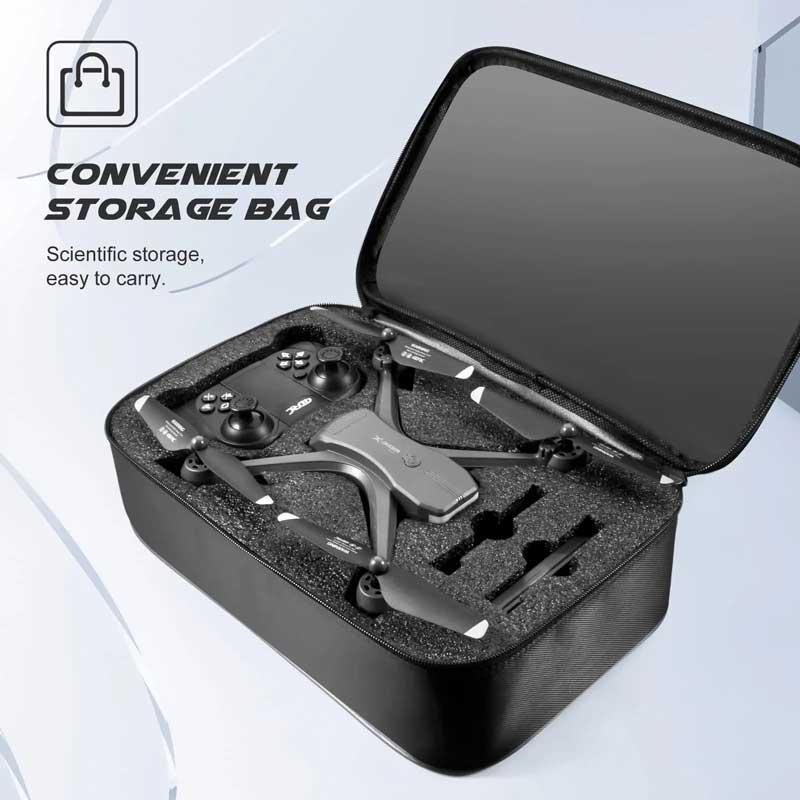 Best gift
Easy to control, the most suitable gift for Christmas, Thanksgiving, New Year, birthday, drone toys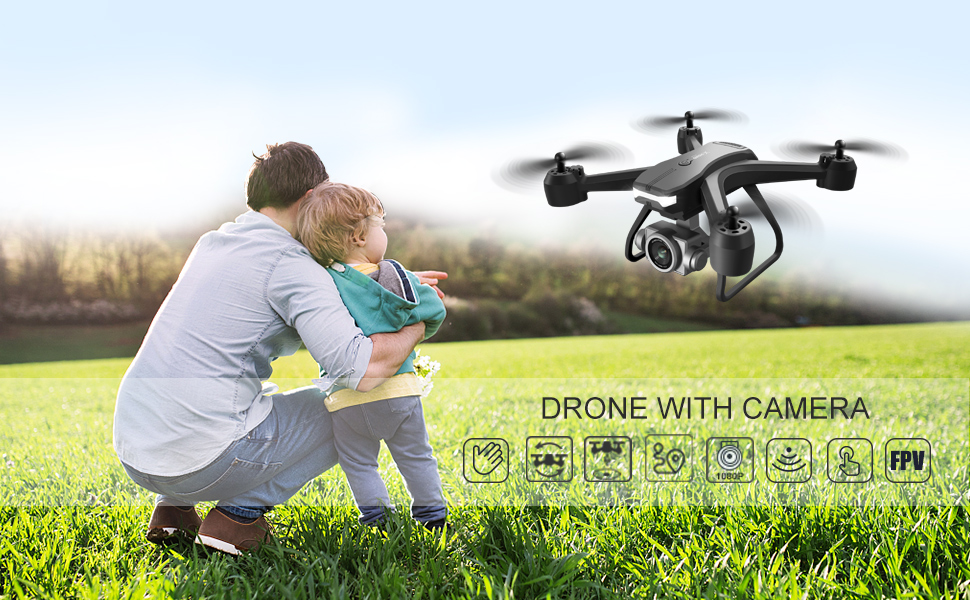 Product Specification
Battery Parameter: 3.7V 1200mAh
Charging Time: 90 mins
Color: Black
Control Type: Remote Control
Flight Time: 20 mins
Function: Headless mode, Altitude Hold Mode, With Camera, With LED lights, with G-sensor, 3D flips, One Key Takeoff / Landing, APP Control, With Remote Control, Foldable
image capture resolution: 1280*720
Material: Plastic
Model Number: V14 Drone
Motor: Brushless Motor 7016*4
Operator Skill Level: Intermediate & Expert
Product Dimensions: 30X19X9 cm
Product weight (g): 420g
Remote Distance: 200 meters
Wifi image transmission distance: (Outdoor and unobstructed, depending on conditions and mobile device) 800 M
Video resolution(phone):1280x720P
Video resolution(SD card): 3840x2160P
Frame rate: 30 FPS
Pressure sensor: Height setting
Frequency: 2.4 G
USB Charging :(5V/3A) Included
Open Product Size Fold Unfolded:  26*26*10 CM
Product Weight:420 g
The lithium battery of the transmitter:3.7V 1200mAh
Package includes
1 * Quadcopter.
1 * Remote control Batteries

2 * Replacement fan blades.
1 * Charging cable
1 * Manual
1 * Screwdriver
2 * Landing gear.
4 * Protective frame.