Cechy.
Bezpieczna gra i mnóstwo zabawy: zamień dowolną przestrzeń wewnątrz budynku w najlepsze pływające boisko do piłki nożnej i graj godzinami tak, jakbyś budował boisko w domu. Twoje dziecko może rozegrać z przyjaciółmi zajęcia z prawdziwej piłki nożnej. Aby urozmaicić grę w hali, do pakietu dodaliśmy dmuchaną piłkę nożną i kilka pompek. Wystarczy napompować piłkę za pomocą pompki i rozpocząć zabawę!
Aktualizacja silnika! Długotrwała: zawieszona piłka nożna jest wyposażona w potężny wbudowany silnik, który zasila wentylator i znacznie spowalnia starzenie się. Pływający krążek dystansowy jest większy, a jakość bardziej niezawodna. Można nim grać jak prawdziwą piłką, a nie tylko zabawką. Możesz zmienić każdą podłogę w powierzchnię do gry w hokeja i piłkę nożną, doskonałą na drewnie, linoleum, polerowanym betonie, a nawet wykładzinie o krótkim runie.
Kolorowe światła: dzięki kolorowym światłom na powierzchni piłki z przyciskami, dzieci mogą grać i kopać piłkę w nocy, zmieniając mecz piłki nożnej w olśniewający pokaz świateł i dając dzieciom więcej radości i umożliwiając nocne gry. Wspaniale. Możesz grać jak prawdziwą piłką, a nie tylko zabawką.
Wyściełane zderzaki chroniące Twoje meble: Jak zawsze, nasze zestawy piłkarskie są wykonane z wysokiej jakości, nietoksycznych materiałów. Po pierwsze, zapewnia, że nie zaszkodzi dzieciom. Po drugie, posiada ultra miękki zderzak z pianki, który chroni Twoje meble i ściany przed uderzeniami, wgnieceniami, zadrapaniami lub zużyciem, a w zamian za to daje dobry efekt odbijania się od podłoża dla wielogodzinnej zabawy.
Idealny na przyjęcia i prezenty: bez względu na okazję, pływający mecz piłki nożnej to idealny prezent. Niezależnie od tego, czy jest to impreza, impreza, urodziny, spotkanie rodzinne, sleepover lub inne zabawne wydarzenie, twój nowy pływający zestaw do piłki nożnej jest idealnym prezentem i narzędziem do robienia imprez.
Zestaw piłkarski dla dzieci Top gry sportowe wewnątrz i na zewnątrz dla chłopców w wieku 4-16 lat
Zostań następnym mistrzem piłki nożnej
Air Power Football to wspaniała i ekscytująca zabawka dla Twojego dziecka do zabawy zarówno w domu jak i na zewnątrz.
Pomaga zwiększyć ciekawość dziecka i wyrobić dobre nawyki.
Może też poprawić Twoje relacje z dzieckiem.
Jako zabawka o innowacyjnym designie, można ją również podarować jako prezent dla dziewczynek lub chłopców.
Spędź jakościowy czas ze swoim maluchem w zabawie pod dachem!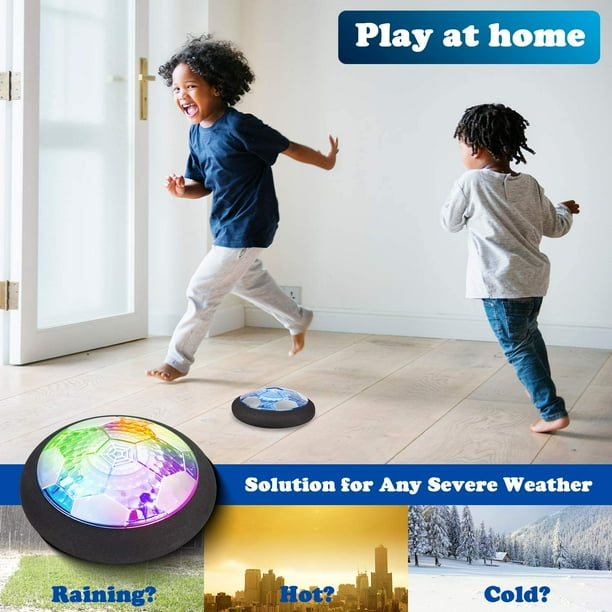 Interaktywne gry wieloosobowe i czas dla rodziny
Pozwól swoim dzieciom budować przyjaźnie poprzez grę.
Idealny na deszcz lub śnieg (lub jakikolwiek inny dzień), z 2 bramkami, niezależnie od pogody, Twoje dziecko może zbudować w domu boisko do piłki nożnej lub hokeja i tworzyć różnorodne gry z rodzicami lub przyjaciółmi.
Baw się z dzieckiem w wolnej chwili i poprawiaj więź między Tobą a Twoim maluchem!
Gra USB hover football dla chłopców i dziewcząt w wieku od 3 lat wzwyż, pierwsza gra wieloosobowa
Najmocniejsza piłka nożna typu super-slick może unosić się na każdej gładkiej powierzchni bez przewracania się.
Jasny podmuch w ciemności
Bezpieczne dla środowiska i oszczędne, nie wymagają baterii
Bezpieczny i nietoksyczny plastik ABS.
Wykonany z wysokiej jakości tworzywa sztucznego, solidny i trwały. Nie będzie kaleczyć stóp dziecka. Wspaniały prezent dla wszystkich dzieci.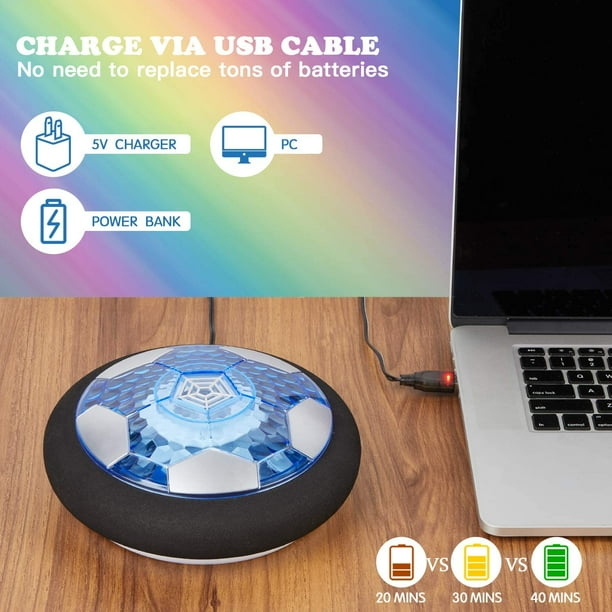 Wersja zaktualizowana
Ta nowa piłka nożna hover została zaktualizowana, aby była zasilana akumulatorami litowo-jonowymi. Nie musisz więc martwić się o wysokie koszty baterii.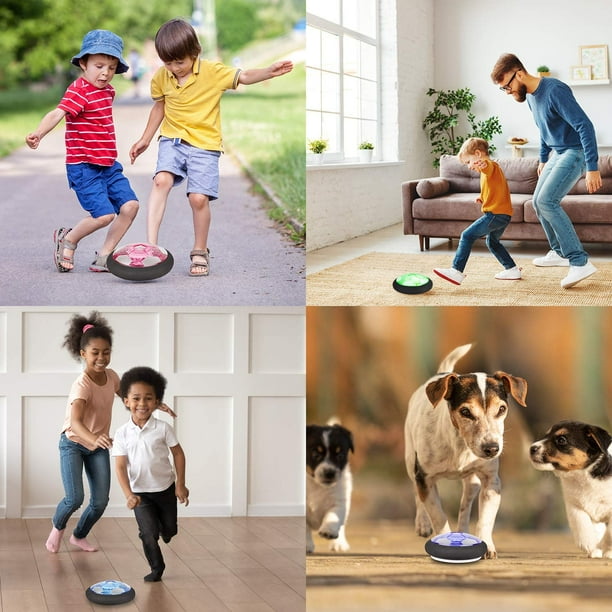 Różnorodność sposobów gry
Dzięki prostej konfiguracji i szybkim ruchom akcji, dzieci będą uwielbiać grać w nią wielokrotnie, co czyni ją świetną grą rodzinną.
Zawiera różne zabawne nowe sposoby zabawy z kursorem.
Chodźmy! Utwórz nową grę, taką jak Bowling Hockey, aby uzyskać jeszcze więcej zabawy.
Specyfikacje.

Materiał: tworzywo
Rozmiar: 18*18*6.5CM
Rozmiar opakowania: 27.5*20.5*9.5CM
Waga: 630g
Produkt zawiera.
Zawieszona piłka nożna*1
Nadmuchiwana bramka*2
Nadmuchiwana piłka do piłki nożnej*1
Pompa nadmuchiwana*1
Sznurek do nadmuchiwania*1