Cechy
Świetna zabawka edukacyjna: ABC flashcards nie tylko pomagają dzieciom łatwo nauczyć się liter i cyfr, grając w tę grę flashcard, ale także rozwijają koordynację ręka-oko, rozpoznawanie kolorów i kształtów oraz drobne umiejętności motoryczne, z których wszystkie sprawiają, że świetne zajęcia przedszkolne i zabawki Montessori dla małych dzieci.
Nauka przez zabawę: karty z alfabetem to idealna zabawka edukacyjna dla chłopców i dziewczynek w wieku 3, 4 i 5 lat. Z zabawnymi ilustracjami i jasnymi kolorami, karty do wyciągnięcia dla maluchów przykują uwagę i zainteresowanie Twojego dziecka, utrzymując jego uwagę przez wiele godzin.
Idealny prezent dla chłopców i dziewczynek: Nadal jesteś na bakier z wyborem prezentów urodzinowych lub świątecznych dla 3, 4 i 5 letnich chłopców i dziewczynek? Ta gra karciana alfabet dla 3-4 latków to świetny wybór, którego nie będziesz żałować!
Specyfikacje.
Materiał: drewno
Rozmiar: 28*28*3.3cm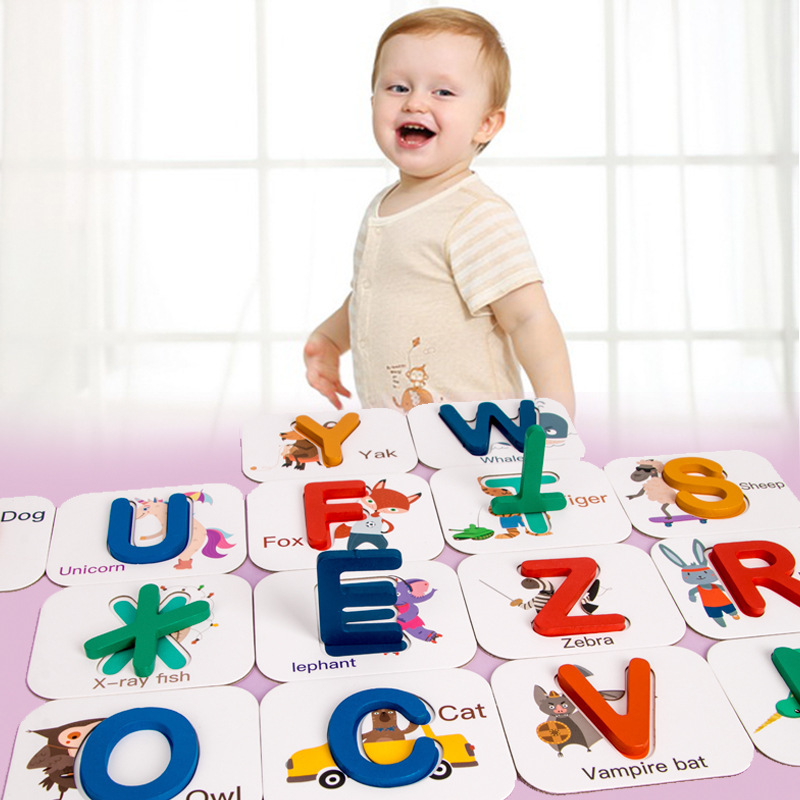 Karty do nauki alfabetu i liczb - Zabawki edukacyjne dla maluchów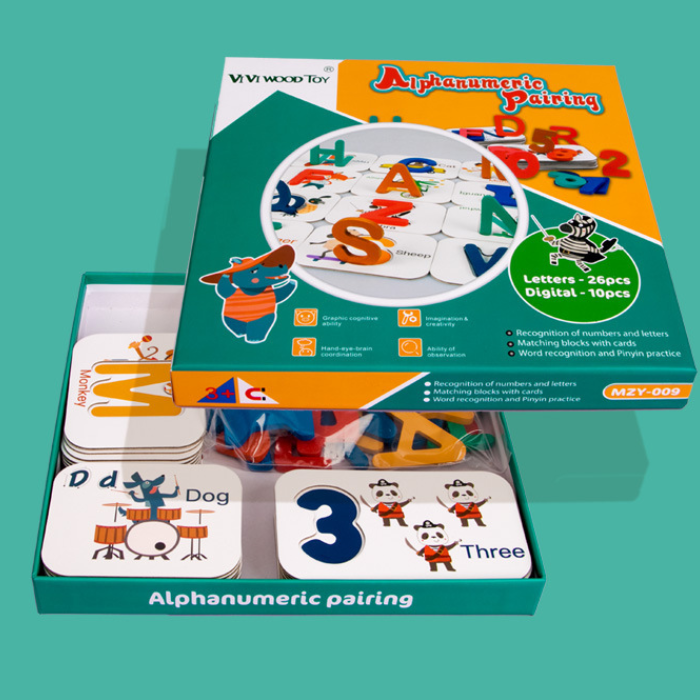 Łatwy do zamówienia.
Do każdego zestawu flashcards ABC dołączone jest pudełko do przechowywania, dzięki czemu karty, drewniane literki i klocki z cyframi można łatwo posortować, nie zajmując dodatkowego miejsca.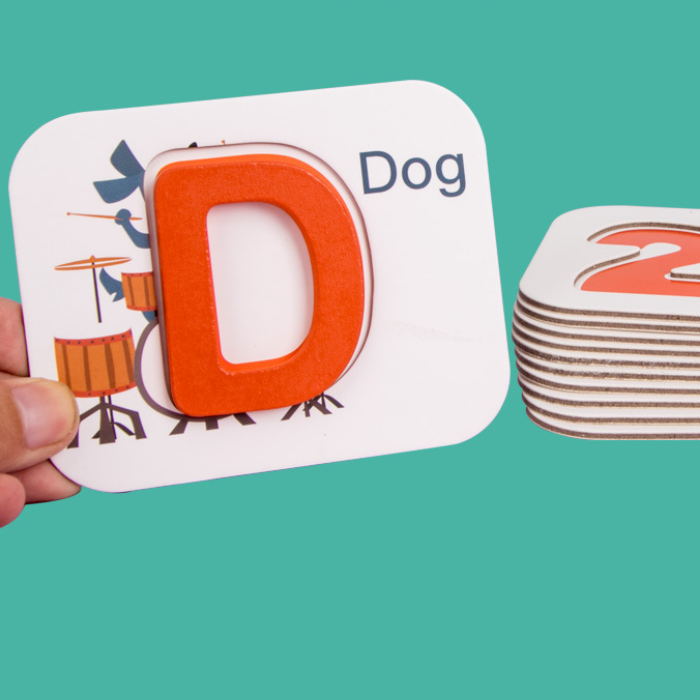 Urocze motywy zwierzęce
Każda karta alfabetu i liczb jest zaprojektowana z uroczym motywem zwierzęcym, który pomoże małym dzieciom zidentyfikować zwierzęta podczas nauki liter i liczb.
Idealny rozmiar dla dzieci.
Drewniane klocki z literkami i cyferkami mają idealny rozmiar dla dzieci, są wystarczająco duże i mają gładkie krawędzie, aby dzieci mogły je łatwo chwycić.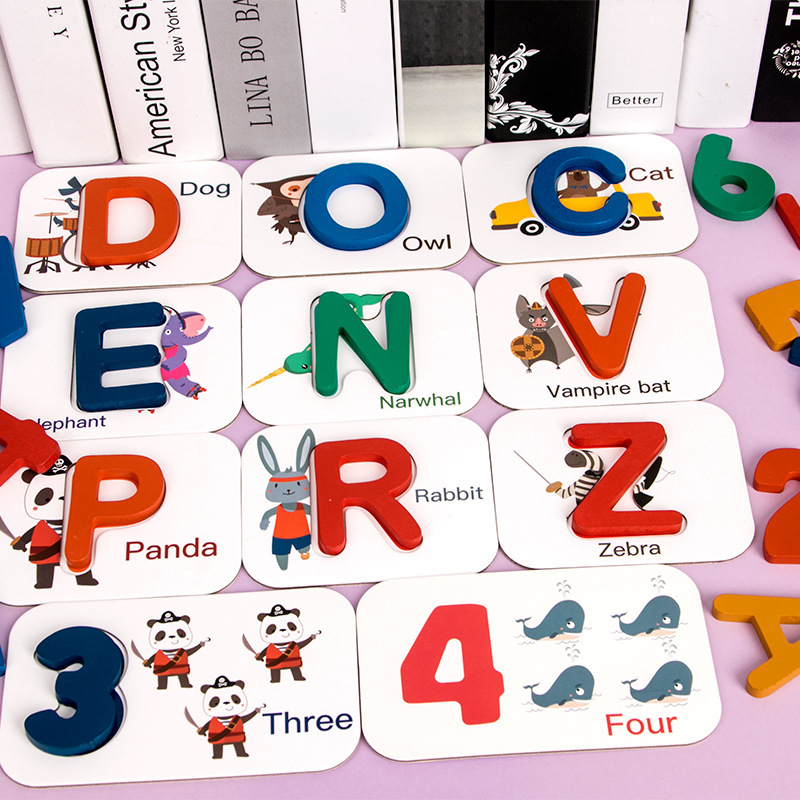 Wielokrotne wykorzystanie flashcards z literami i cyframi.
- Zajęcia przedszkolne: flashcards dla dzieci to świetne zajęcia przedszkolne dla dzieci od 3 roku życia, pracujące nad koordynacją ręka-oko, rozpoznawaniem kolorów i kształtów oraz drobnymi umiejętnościami motorycznymi.
- Zabawka edukacyjna: Dzieci mogą uczyć się liter i cyfr jako zajęcia przedszkolne dzięki drewnianym klockom na kartach flash. Są też dodatkowe symbole liczenia, które pomogą dzieciom nauczyć się podstawowych operacji dodawania i odejmowania.
- Idealny na Boże Narodzenie i urodziny: Ten zestaw kart z cyframi i literami sprawia, że idealny prezent na Boże Narodzenie, urodziny lub inne wakacje dla twoich małych dzieci.
WARM TIPS.
Ponieważ ten zestaw kart alfabetu zawiera małe części, które stanowią ryzyko zadławienia dla dzieci poniżej 3 roku życia, zalecamy, aby dzieci bawiły się tymi kartami alfabetu pod nadzorem rodziców.