Cechy:
Drewniana zabawka ortograficzna: 40 wizualnych kart do czytania słów, odpowiednia do nauczania bardzo podstawowych umiejętności czytania.
Trwały i solidny materiał: drewniane klocki literowe i tace wykonane są z naturalnego drewna, są nietoksyczne i przyjazne dla dzieci. Drewniane klocki o większych rozmiarach, aby uniknąć ryzyka ich połknięcia przez dzieci. Karty ortograficzne są trwałe i łatwe w użyciu, nawet w klasie. Duży kolorowy nadruk jest idealny do zaokrąglonych narożników, bez ostrych krawędzi i gładkiego, pozbawionego zadziorów wykończenia. Nawet po dłuższym użytkowaniu ten blok literowy do literowania jest solidny i trwały.
Sight Word Folding Flash Cards: Umieść karty w szczelinach drewnianej tacy, złóż karty na słowa pokazane na obrazku i przeliteruj słowa na drewnianym bloku literowym zgodnie z komunikatem Sight Word prompt. Inteligentna zabawka Montessori Benefit pomaga dzieciom rozwijać strategiczne myślenie w mózgu i znacznie rozwija pamięć.
Przyciągnij uwagę dziecka: Przyjazne maluchowi karty edukacyjne z uroczymi ilustracjami z większym prawdopodobieństwem przyciągną uwagę dziecka, a dopasowane zestawy literek pozwolą mu oderwać się od ekranu na dłuższy czas. Tymczasem będziesz miał mnóstwo wolnego czasu na robienie tego, na co masz ochotę.
Idealny prezent dla Twojego dziecka: te karty są trwałe i łatwe w użyciu, nawet w klasie. Duży i nie do zdarcia. Potrafią wytrzymać destrukcyjną siłę dzieci. Idealnie sprawdzą się kolorowe nadruki. Zabawka edukacyjna to świetny prezent dla chłopców i dziewczynek w wieku 3+ na urodziny, Boże Narodzenie, Święto Dziękczynienia i inne święta*.
Specyfikacja:
Nazwa produktu: Fawn Spelling Word
Materiał: Drewno
Pakowanie: kolorowy karton
Rozmiar produktu: 21.3*14.7*6.6CM
Waga produktu: 0.53KG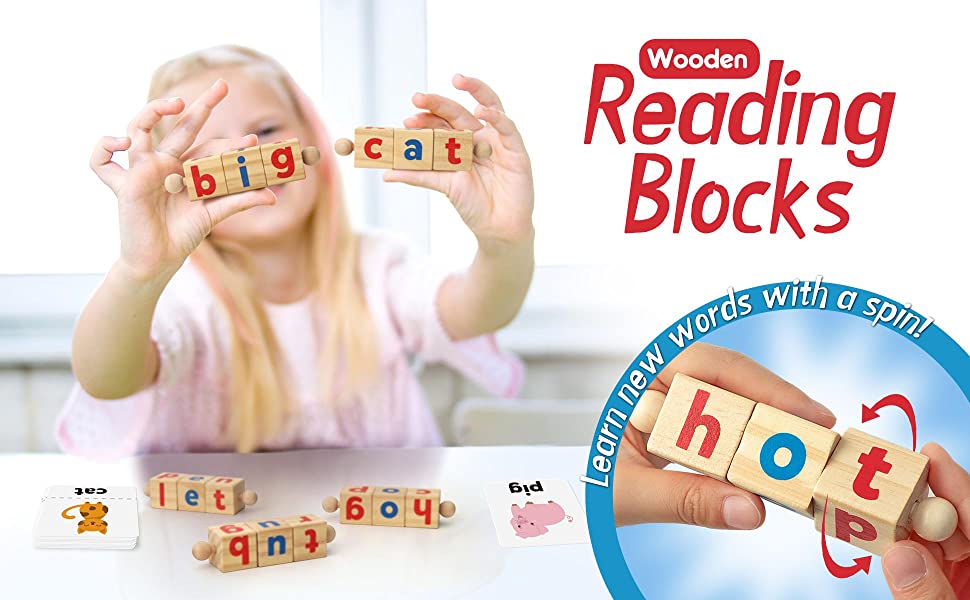 Podstawowe słowa na kartach są łatwe do opanowania przez dziecko w pierwszych latach życia. Pomaga dziecku w pisowni, dopasowaniu i umiejętnościach pamięciowych poprzez dopasowanie liter na kostkach do liter w słowach i przeliterowanie literowych nazw przedmiotów. Jeśli Twoje dziecko nie potrafi rozpoznawać wyrazów - możesz włożyć karty z wyrazami do szczeliny bez zakrywania wyrazów na karcie, a następnie poprosić je o połączenie kostek w szczelinie, aby utworzyć prawidłowe słowo z karty. Jeśli dziecko zna już słowa ortograficzne, można ukryć wyrazy i przeliterować je za pomocą kwadratów. Postępuj zgodnie z podpowiedziami słów na karcie, aby znaleźć odpowiednią literę, słowo jest całkowicie zakryte i


2 rodzaje wizualnych kart flash z wyrazami
Nauka nowych słów może być wyzwaniem i frustracją dla dzieci, bez względu na ich poziom naukowy. Teraz możesz zamienić ten męczący proces w zabawną grę. Dzięki żywym obrazkom z kreskówek wyświetlanym na kartach, jest to świetny sposób na stymulowanie mocy mózgu dzieci, koordynacji ręka-oko, drobnych umiejętności motorycznych i pamięci. A wszystko to przy jednoczesnym zapewnieniu dziecku bardzo potrzebnego zastrzyku pewności siebie.
Wytrzymałe, trwałe materiały.
Łącząc drewniane kostki literowe w celu utworzenia słowa, dzieci mogą rozwijać ważne zrozumienie mechaniki słownictwa z pomocą kart obrazkowych, które dostarczają wskazówek dotyczących znaczenia tworzonego słowa.
Karty ortograficzne wykonane są z dwustronnie zadrukowanego papieru wzorzystego o zaokrąglonych rogach i bez ostrych krawędzi. Drewniane klocki z literkami są idealne dla małych rączek, są gładkie i pozbawione zadziorów.
Dla początkujących w języku angielskim
Drewniany klocek jest 4-stronny z literkami i można zbudować z niego wiele literek pasujących do kart flash. W zestawie znajduje się 48 różnych kawałków folii. Umożliwia dziecku poznanie około 48 słów słownictwa. Flashcards zawierają podstawowe słowa, które są łatwe do opanowania przez dziecko we wczesnym okresie nauki. Alternatywnie, można DIY więcej siebie i grać w gry dopasowania liter.