Cechy.
Podkładka do pisania: idealna do ćwiczenia pisania przez dzieci. Do tego jest przenośny. Pomaga promować drobną kontrolę motoryczną i koordynację ręka-oko, a także pisanie ręczne.
Dwustronna konstrukcja: drewniana tablica do pisania jest dwustronna. Każde słowo na arkuszu ma strzałki kierunkowe, które pomagają pociągnięciom zachować właściwą kolejność i kierunek. Dziecko może zobaczyć, gdzie zaczyna się każda linia i w którą stronę idzie.
Pomaga dzieciom pisać: delikatnie wytrawione zakrzywione rowki zapewniają sposób na ćwiczenie koordynacji ręka-oko poprzez realne wyzwania. Pomaga kontrolować ruchy rąk i pamięć mięśniową, aby pisać, rozpoznawać i formować litery.
Wczesna nauka: wykonane z wysokiej jakości drewna i wytrawione z napisami. Naturalne drewno lite pokryte ekologicznym lakierem wodnym. Ponieważ wszystkie krawędzie są gładkie i nie ma żadnych chropowatych powierzchni, dzieci mogą się nim bawić całkowicie nietoksycznie i bezpiecznie bez żadnego ryzyka.
Najlepszy pomysł na prezent: ten tablet do pisania jest świetny. Doda plamę koloru do domowej klasy lub jest wspaniałym prezentem dla przedszkolaka.
Specyfikacje.
Materiał: drewno
Rozmiar: 29.5*23.5*1,1cm
Waga: 600g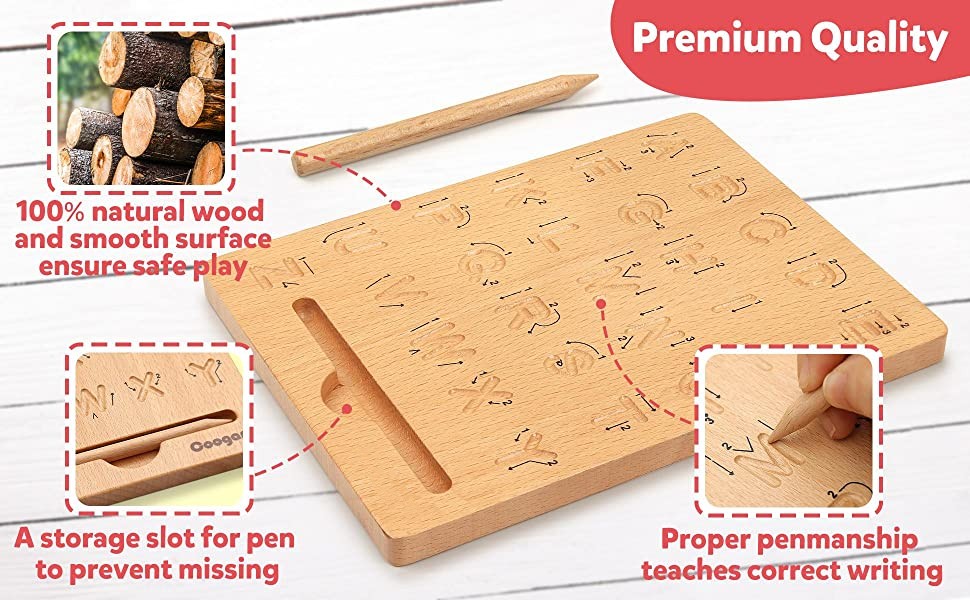 Maluchy uwielbiają uczyć się alfabetu/liczby z tą praktyczną tablicą alfabetu. W zestawie znajduje się gruby drewniany patyczek do rysowania.
Młodsze dzieci mogą po prostu użyć palca, aby rozpocząć naukę śledzenia liter/liczb, podczas gdy starsze dzieci, które są gotowe do pisania, mogą użyć dołączonego drewnianego rysika, aby rozwinąć siłę dłoni i palców wymaganą do prawidłowego .

Jak używać
Śledź cyfry/litery drewnianym ołówkiem. Dzięki strzałkom kierunkowym dzieci uczą się prawidłowego śledzenia cyfr/liter. To świetny sposób na wzmocnienie rozpoznawania liter i cyfr. Ten tablet do pisania jest dwustronny z jedną stroną do dużych liter i drugą do małych liter. Jest to bardzo przydatne dla dzieci, aby kontynuować ćwiczenie liter.
Drobne umiejętności motoryczne
Z pozoru prosty pomysł nauki cyfr/litery i śledzenia można zamienić w wiele innych zabaw dla rodziców i dzieci. Oprócz pisania literek za pomocą dołączonego do niej "ołówka", dzieci mogą również bawić się takimi rzeczami jak ryż czy suszona fasola.
Podkładka do pisania
Ta zabawka do pisania ręcznego ma pióro przymocowane do kalki i zachęci dzieci do chwytania, mocnego trzymania i ćwiczenia pisania w domu. Ta kalka jest fantastyczna! Doda splash kolorów do swojej domowej klasy lub zrobić przemyślany prezent dla malucha lub przedszkolaka.