Jest to zabawka w postaci kostki logicznej do rozumowania przestrzennego. Otwarcie wygląda na proste i łatwe, ale żeby poskładać to z powrotem do kupy, potrzeba sporej burzy mózgów. Dzięki niej poćwiczysz swoje umiejętności myślenia przestrzennego, umiejętności praktyczne, poszerzysz swój umysł, wykorzystasz w życiu myślenie odwrotne oraz poprawisz swoje umiejętności analityczne i rozwiązywania problemów.

Cechy.
Buduj swój mózg: ta drewniana układanka w kształcie litery T zapewnia wiele godzin zabawy i tajemnicy z intelektualnym wyzwaniem dla osób rozwiązujących problemy i miłośników gier; rozłóż i złóż ponownie
Relaksujące wyzwanie: ta łamigłówka oferuje trudne wyzwanie, a także pozwala uwolnić się od stresu, zrelaksować i cieszyć się stymulacją mózgu; zabawa dla rodzin, studentów i dzieci
BUILD SKILLS: Smart 3D puzzle zaprojektowane do budowania fajne umiejętności, w tym rozwiązywania problemów, wyobraźni przestrzennej, twórczego myślenia i więcej; grać w kółko, aby ćwiczyć swój mózg
Wysoka jakość: drewniane puzzle są precyzyjnie wycięte, ściśle dopasowane i trwałe; lakierowane wykończenie; bardzo solidne i atrakcyjne, idealne dla miłośników puzzli i młodzieży
Piękny prezent: edukacyjna i zabawna drewniana układanka dla osób w wieku 6+ i każdego, kto lubi wyzwania
Specyfikacje.
Materiał: naturalne drewno bukowe
Rozmiar: 7 * 7 * 7cm
Liczba bloków: 54
Kolor: oryginalne drewno, czarny
Edukacyjne puzzle edukacyjne czy zabawne zabawki 3D?
Dlaczego nie oba?
Intelektualne wyzwanie dla rozwiązywaczy problemów i miłośników gier, ta drewniana układanka "Tetris" oferuje godziny zabawy i tajemnicy; rozłóż i złóż ponownie.
To wysokiej jakości, autentyczna drewniana zabawka edukacyjna, która jest platformą do rozwoju kreatywności, umiejętności uczenia się przestrzennego, rozwiązywania problemów i nie tylko. Świetnie sprawdza się jako zabawka edukacyjna dla dzieci, ponieważ w rzeczywistości jest zabawą - to pudełko z puzzlami jest wyzwaniem dla dzieci, aby zachować skupienie i uwagę.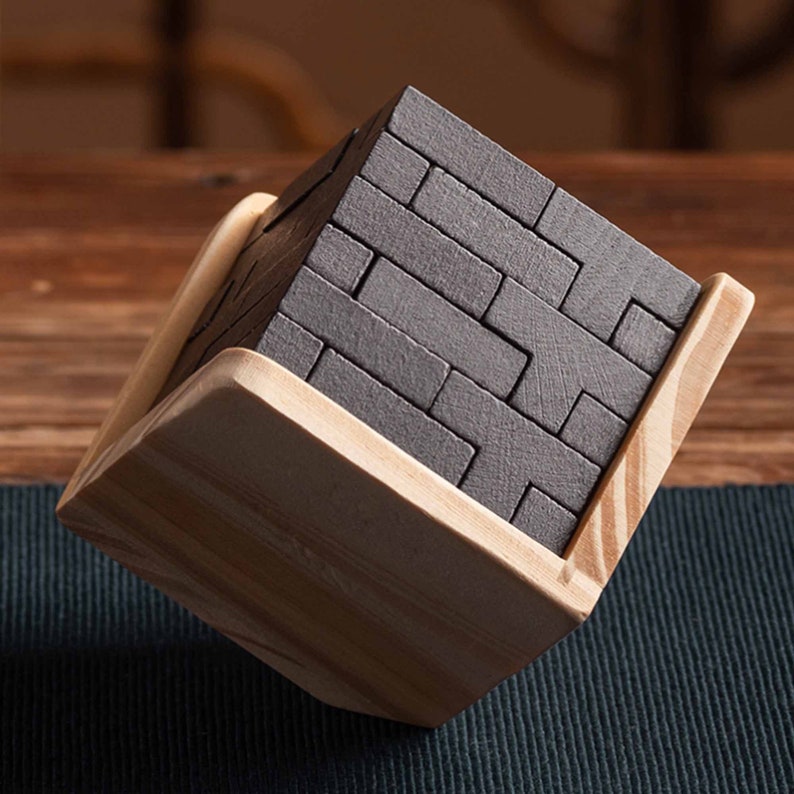 Ta edukacyjna zabawka oferuje wysoki poziom wyzwania, jednocześnie pozwalając na rozładowanie stresu, relaks i ciesząc się stymulacją mózgu; zabawa dla rodzin, studentów i dzieci.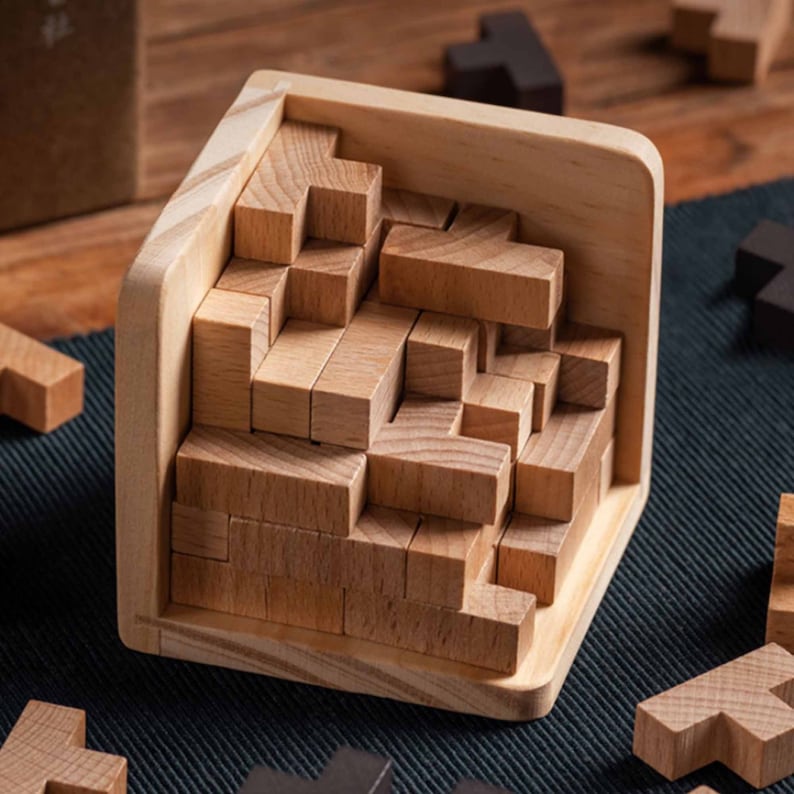 Buduj umiejętności z tą fantastyczną łamigłówką
Ta geometryczna zabawka z klocków logicznych to wspaniały prezent dla dzieci, który zachęci je do odłożenia na chwilę gier wideo i gadżetów oraz rozwinie umiejętności krytycznego myślenia. To zabawka edukacyjna, która zaangażuje je podczas przejażdżki samochodem, samolotem, w letnie dni i w każdej chwili, gdy chcesz zachęcić do rozwoju intelektualnego. Wspaniały prezent na Boże Narodzenie, prezenty urodzinowe lub na każdą świąteczną okazję do obdarowywania prezentami*. Wspaniały prezent i wymagająca łamigłówka logiczna również dla dorosłych!